Vetřelec Hans Rudy Giger
14. 10. 2007 | 23:09
Přečteno 185790 krát
Jen třicet minut. Víc času na rozhovor prý nemá. "Pak musím odejít," řekl sedmašedesátiletý Hans Rudy Giger. A dopředu upozornil, že už nesnáší otázky na Vetřelce. Ale nakonec to nebylo tak zlé. Slíbenou půlhodinku beze všeho přetáhl a ochotně se rozpovídal. Krom jiného i o Vetřelci.
FG - Vaše obrazy působí trochu strašidelně. Co vlastně malujete - svoje noční můry?
HG - Často si pokládám stejnou otázku! Ale nebojte se, nemívám takové sny. Dokonce o tom, co vidíte na mých obrazech, ani nepřemýšlím. Většina věcí, které vytvářím, ke mně přijde nějakým zvláštním instinktem. Nejdřív si jen tak sedím a nic moc se neděje. Pak začnu kreslit, potom malovat, a za nějakou hodinku je obraz hotov. Jako bych se napojoval na nějaký jiný svět, který snad ani není můj.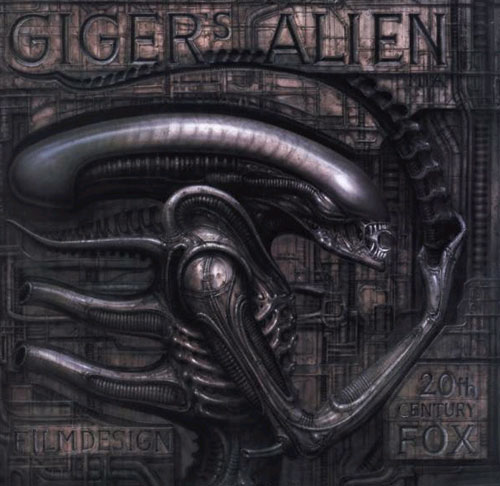 FG - Jiný svět? Snad nějaký pekelný?
HG - Ne tak docela. Řekl bych, že se možná napojuju na náš budoucí svět. Ano, nejspíš to je budoucnost, která má teprve přijít.
FG - Jak by podle vás mohla vypadat?
HG - Budoucnost plná mutantů a lidského otroctví. Kdo ví, možná, že se někde odehrává paralelně budoucnost, minulost a současnost. Vždyť žijeme ve světě, jehož základ je kruh - od zeměkoule přes atomy. Takže možná, že čas funguje podobným způsobem, kdo ví.
FG - A ti mutanti znamenají vítězství nad smrtí?
HG - Ano. Možná, že jednou lidstvo najde technologii, kterou výrazně prodlouží lidský život. Doufám, že to bude co nejdřív.
FG - Řekněte mi, nemáte občas strach z toho, co malujete?
HG - Mám. Ale také mě to trochu vzrušuje. Připadá mi, jako by strach a sex pocházely ze stejných pocitů.
FG - Jak vznikl Vetřelec, váš nejslavnější výtvor přenesený na filmové plátno?
HG - Režiséra Ridleyho Scotta moje dílo oslovilo a požádal mě o spolupráci. Můj návrh na podobu Vetřelce odsouhlasil celý filmový štáb. Vzniklo elegantní, hmyzu podobné stvoření, které nebylo jen nemotorným monstrem. Ale došli jsme k názoru, že ještě děsivější bude stvoření bez očí, které poženou pouze instinkty. Proto jsem nakreslil druhou verzi, v níž Vetřelec neměl oči. To byly začátky. Pak jsme pokračovali na detailech a na Vetřelcově "oživování".
FG - Vaše obrazy mají silný sexuální náboj. Ale ženy na vašich plátnech jsou často zachycené jako pasivní objekty, je jim znemožněn sebemenší pohyb.
HG - Teď, když to říkáte, si toho skutečně všímám, ale věřte, že je to poprvé, co o tom takhle přemýšlím. Máte pravdu, že ženy na mých obrazech jsou vždy spojeny s ostatními prvky malby a nemají pražádnou možnost pohybu.
FG - Jak to vzniklo? Proč je tak zobrazujete?
HG -
(Pár vteřin přemýšlí)
Víte, nerad o tom mluvím, ale sám bych v tom chtěl mít jasno. Proto udělám výjimku. Příčinou je sebevražda mé ženy. Teď si uvědomuju, že ty ženy neschopné pohybu mají co do činění se smutkem způsobeným ztrátou partnerky, se kterou jsem měl intenzivní vztah. Od té doby, co mě opustila, na ni neustále vzpomínám jako na nádhernou ženu. A ten smutek dávám do svých obrazů. Možná, že to má něco společného s tím, že už ji nikdy nemůžu potkat. Že i když je mrtvá a nemůže se hnout, tak po ní stále toužím. Ale už raději skončím, protože nechci, aby tenhle rozhovor vyšel v novinách s titulkem, že jsem nekrofil.
FG - Ztráta vaší ženy také vysvětluje, proč je na vašich obrazech přítomna i smrt.
HG - Smrt? Kde vidíte smrt?
FG - Všechny ty divné postavy mutantů připomínající zombi... Jsou to částečně lidé, částečně stroje a ve tvářích mají bolest.
HG - Jedním z mých častých motivů jsou dveře do jiného světa. Raději takhle nazývám smrt.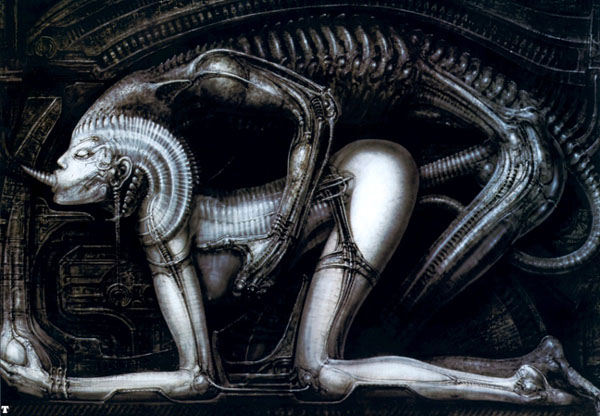 FG - Bojíte se smrti?
HG - Samozřejmě, vy ne? Můj Bože, smrt přece zajímá každého! Vždycky ráno si po probuzení uvědomím, že i když jsem tuhle noc přežil, otázka je, kolik jich mám ještě před sebou? A pokud se narodíte před tak dlouhou dobou jako já, tak víte, že už vás mnoho let nečeká. Což je depresivní.
FG - Ale vaše práce tady po vás zůstane!
HG - Záleží na tom? Zajímá mě jen to, co si můžu ještě užít. To, že tu po mně zůstane moje práce, pouze znamená, že zanechám lidem něco ze sebe. Jenže to už si já neužiju.
FG - A užíváte si svou slávu?
HG - Abych byl upřímný, tak slávu ne. Starám se - a to je poprvé, co to přiznávám - pouze o ty zatracené kritiky.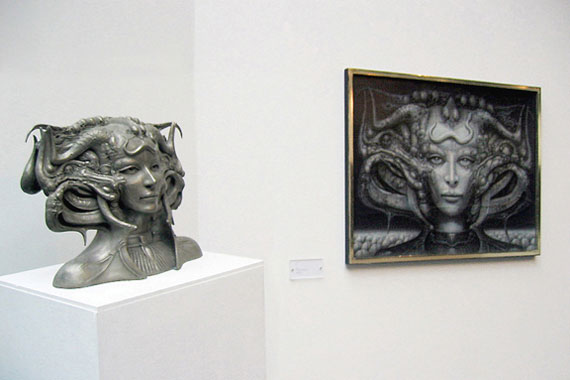 FG - Zajímáte se o kritiky, ale ne o miliony fanoušků, kteří vás obdivují jako tvůrce filmového Vetřelce?
HG - My umělci bychom se měli kritikům smát. Ale většinou chceme, aby nás měli rádi právě ti, kteří nás nesnášejí. (usmívá se) Kritici říkají, že nejsem umělec. A jedním z důvodů jejich odporu vůči mně je právě má popularita, která nevznikla v galeriích, ale na promítacím plátně. Kritici prostě nemají Hollywood v lásce.
FG - A vy? Věnoval jste svého Vetřelce filmu kvůli slávě, nebo kvůli penězům?
HG - Především kvůli penězům. A taky jsem si chtěl užít trochu slávy, to je fakt. Pokud bych si měl znovu vybrat, nechal bych i teď režiséra Ridleyho Scotta, ať se inspiruje mou prací, protože film Vetřelec mám opravdu rád. Ale sláva, kterou mi přinesl, byla současně sladká i kyselá. Svět mě sice zaregistroval, ale nezačal uznávat. Prestiž jsem nezískal. A já to chtěl opačně!
FG - Jak svým kritikům vysvětlíte, že jste umělec, a ne jen bizarní inženýr hollywoodských filmů?
HG - To je problém. Žiju s vědomím, že mě nikdo nebere vážně a že pro většinu lidí jsem pouze ten chlap, co vytvořil Vetřelce... Ale za to jsem dostal alespoň zaplaceno! V jiných filmech vidím vykradenou svou práci.
FG - Soudíte se?
HG - Ne. Na ten zbytek mého života mi ještě peníze vystačí.
FG - Na čem v současnosti pracujete?
HG - Na ničem. Jen si tak cestuju. Co taky dělat? Pro mě jsou všude jen dveře do jiných světů a těmi dveřmi jsou ženy a smrt.
***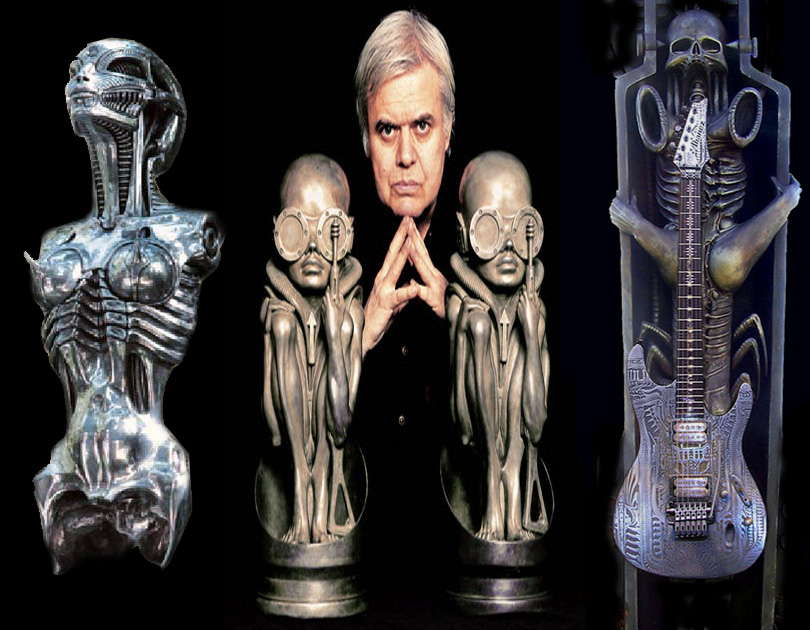 HANS RUDY GIGER
Jeden z předních světových vizionářských umělců. Narodil se ve Švýcarsku 5. února 1940. Studoval architekturu a průmyslový design. Zprvu tvořil kresby tuší a olejomalby, později objevil airbrush - techniku stříkací pistole. Většina lidí ho zná díky filmu Vetřelec, za jehož design získal v roce 1980 Oscara. Když režisér Ridley Scott pozval Gigera do londýnských studií a on zde během několika měsíců vytvořil řadu skic zobrazujících mimozemský kosmický koráb i jeho nevítaného obyvatele - Vetřelce, ještě ani jeden netušil, jakou slávu jim oběma přinese.