Golf investors
02. 04. 2013 | 18:12
Přečteno 29384 krát
Who is investing in Czech golf?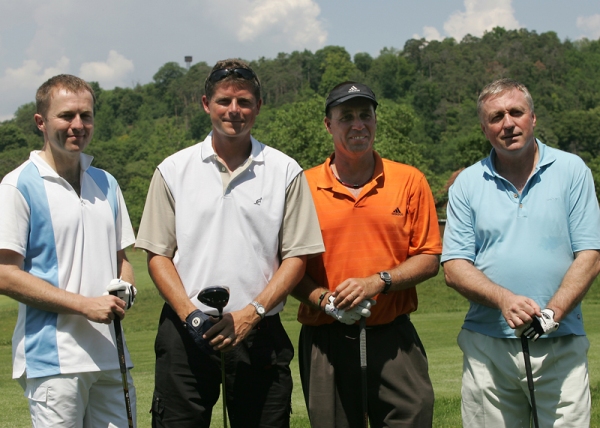 Preface: Their silence is golden
"They were the professionals, lawyers and accountants to a man, and of the second rank, their early careers suggesting that they had never been bound for the top."
An Agent of Deceit
by Chris Morgan Jones
The first line of defence of the financial criminal is his lawyer or accountant. It is they that devise, dismantle, re-arrange and represent the corporate structures that allow the real owners to hide their activities. These activities typically involve related party transactions with state companies, easy pickings for the phony capitalists that burden the economies of central and eastern Europe.
The professionals that provide legal shelter for these low risk, high margin businesses have "sold their identity to protect that of another", as Chris Morgan Jones puts it in his first novel, An Agent of Deceit. According to Morgan Jones, who spent twenty years investigating such types, they do it for the money, the financial security (they are hard to get rid of), and the thrill of the proximity to power (many of their clients are politicians or those who control them).
Their silence is, quite literally, golden. They hardly ever inform on their clients, except perhaps to avoid being jailed in their place, and usually not even then. Nevertheless, when financial crimes are suspected, these representatives of the ultimate beneficiaries of fraud are the obvious place to begin. They are the point at which the two halves of an infinity sign meet.
Morgan Jones again:
He started shading in the right hand side. 'It's beautifully organized and black as pitch. You can't see in. It's in there that he steals the money, and it's in there that he runs his investments. But the money has to come out before it can go back in. So in the West, in a hundred offshore companies, is the other big operation.'

With his pencil he pointed to the other side. 'More beautiful still, if anything, layer upon layer. You can get a glimpse of it but you can't get past the front door. And here, where the two sides meet, here sits [the lawyer]. He knows everything and without him none of this works. Everything has to go through him.
Money made at home (in the Czech Republic, perhaps) is moved into another jurisdiction (Liechtenstein, for example), where it is decontaminated in dozens of nominee firms and transactions, and then later returned home to be reinvested (in golf clubs, let's say).
Both halves of the infinity sign are more or less beyond the reach of the law. At home, in countries like the Czech Republic, financial criminals enjoy high levels of impunity due to business relationships with politicians and even state prosecutors.
And abroad, in places like Liechtenstein, their identities are so deeply hidden behind a many-layered corporate structure, devised by and linked to the professionals, that unless they are very careless or very unlucky, they are untouchable.
The weak point is where the two halves meet, the lawyer or accountant that moves the money abroad before it can come back home to be enjoyed.
A real agent of deceit?
Jiri Kovar is a Czech lawyer about to turn fifty. He is the president of a golf club in southern Moravia and the statutory representative of CEEI, the firm CEZ selected in 2008 as the investor to build the temporary spent nuclear fuel storage facility at NPP Temelin.
At the start, I should stress that Jiri Kovar is of little interest in himself. Of much greater interest are those whose identity he is protecting. I should stress as well that I have no evidence that Kovar or the owners of CEEI have committed or even attempted to commit any crimes.
Nevertheless, the events and connections that I describe below may help explain why the Czech financial crimes police have recently opened an investigation into the circumstances surrounding the only contract (valued at over EUR 60 million) that CEEI has ever won –and indeed is ever likely to win. [The police relaunched this investigation in mid-2014. see
here
.]
At the time, CEEI was owned by a Liechtenstein registered nominee shareholder, UBIE, represented by another lawyer, Marcus Büchel, who serves as Russia's honorary consul to Liechtenstein. [Büchel died in the summer of 2013, aged 54.]
Jiri Kovar claims that CEEI has many shareholders, all of whom prefer to remain hidden, and that he himself has no idea who they might be. Büchel claims that Kovar is an employee of the firm, and that, like Kovar, he has no idea who the owners might be.
However, the man Kovar replaced as the local statutory representative of CEEI, a Czech called Martin Peter, disputes this. He claims that he and Kovar are the owners of the firm. Peter is currently serving a prison sentence for attempted kidnapping and exhortion (see
here
). His victim was Kovar himself. (It might be worth checking if Peter was amnestied by Vaclav Klaus? I do not know the case number but perhaps a reader could tell me?)
I assume that Peter is lying. And I assume that Kovar and Büchel are partly telling the truth, in their claim to be representing the real owners. The question then arises of why the real owners would choose these two particular lawyers to hide behind.
One theory might be that CEEI's beneficial owners are Russians keen to hide their nationality. As Büchel himself has pointed out, there is nothing in Czech law which would prevent a Russian company from bidding for a CEZ contract. Furthermore, Czech law allows state-owned companies to award contracts to firms whose owners are unknown, even contracts that involve its nuclear power sector.
But it might be considered politically difficult to award such a contract to Russians. And if the owners are Russian, the choice of Büchel makes good sense, given his close ties to Russian investors.
The other explanation for all the secrecy might be that the owners were related to the management of CEZ (Martin Roman and Daniel Benes, the two managers responsible for the CEEI decision, are still with the company) [Martin Roman has since left CEZ; Benes is now its CEO], or to some prominent Czech politicians, or to both, in which case a serious crime has been committed. If the owners are related to CEZ, the choice of Büchel makes sense. He is a prominent lawyer (in the 1990s he was for three months the prime minister of the principality) with experience in incorporating firms in Liechtenstein on behalf of owners who wish to remain hidden, for legitimate or illegitimate reasons.
However, in either theory, the choice of Martin Peter and Jiri Kovar makes much less sense. At this point, I would like to share with you the results of my own research into the reputation of Jiri Kovar. I should point out that what follows is based wholly upon public sources. I have simply coloured in the backdrop to the stage upon which the actors described below perform.
Politics
Let us begin with politics. Jiri Kovar first came to the public's attention as the head of the office of prime minister Vaclav Klaus between 1992-1993. It was Kovar that could always be seen standing between Vladimir Meciar and his Czech counterpart at the many press conferences leading up to, and in the aftermath of, the break-up of Czechoslovakia at the end of 1992.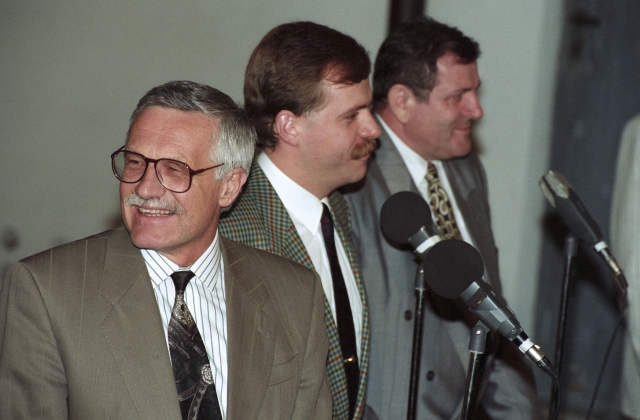 Jiri Kovar twenty years ago
Jiri Kovar's rise to the top of politics was as fast as his fall. A week before the official start of the Velvet Revolution on 17 November 1989, the 25 year old Kovar, a graduate of the law faculty of Masaryk University in Brno, is alleged by his detractors to have joined the Communist Party. By early 1990, Kovar had become an environmentalist and supporter of the revolution. He was nominated as a Civic Forum candidate for southern Moravia, and was elected to the federal parliament, where he was made chairman of the constitutional committee.
At the founding party congress of ODS, in Olomouc in April 1991, Vaclav Klaus was elected chairman and Kovar a member of the party's small executive council, representing southern Moravia. At the party's next congress, in Plzen in November 1991, Kovar was elected a vice chairman of the party.
In the lead up to the 1992 general elections, Kovar was tasked with vetting all ODS party candidates. Together with Petr Havlik, who later turned against Vaclav Klaus, Kovar was authorised to collect state screening certificates for all candidates. At the time, these certificates were not public, and access to them was granted only to election leaders and their nominees, such as Kovar.
In the summer of 1992, following ODS's election success, Kovar became head of the cabinet of newly-appointed prime minister, from which position he was dismissed the following year. The events that led to his removal are worth recounting in some detail.
Two days before the November 1992 ODS party congress in Prague (ODS now led the government), all regional ODS offices received an anonymous mail stating that Kovar's party rival from southern Moravia, a man called Jiri Honajzer, was an StB agent. The letter was accompanied by a document showing that Honajzer was listed as a type C agent, which meant that he was being considered for cooperation. Honajzer publicly accused Kovar of being the author of a politically motivated attack against him, arguing that Kovar was hoping to secure for himself the regional nomination for the post of party vice-chairman, a nomination that Honajzer had already obtained.
This allegation, in combination with the unproven claim that Kovar had misappropriated ODS party funds, obliged Vaclav Klaus to dismiss the head of his office. Since 1993, Jiri Kovar has been a regular member of ODS in southern Moravia.
Sport
So much for Jiri Kovar the ODS politician. Let us now move onto Jiri Kovar the golfer. Since 2005, Jiri Kovar has been the president of Golf Club Austerlitz in southern Moravia. In 2011, he stood unsuccessfully for the presidency of the Czech Golf Federation.
Golf Club Austerlitz has around 1000 members today, of which perhaps the most famous, at least since February 2011, is Pavel Suchanek, an ODS member of parliament from southern Moravia and president of the golf club of the Czech Parliament. Suchanek stood unsuccessfully for the presidency of the Czech Golf Federation this year.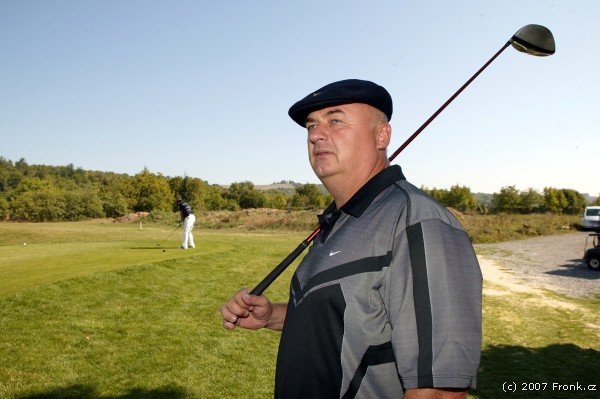 Foto: FRONK 2007
A politician and his club: ODS MP Pavel Suchanek taking part in the Jurex Cup tournament on 25th August 2007 at GC Austerlitz. The Jurex Cup is sponsored by Jiri Kovar's firm of the same name.
Perhaps his failure to be elected the head of Czech golf had something to do with his Dubai trip. Readers will recall how, in February 2011, Suchanek flew to the Middle East with five other prominent golfers: Martin Roman of CEZ; Martin Dvorak of Dopravni podnik hl. m. Prahy; Petr Zaluda of Czech Railways; Tomas Krsek of Skoda Transportation; and Roman Janousek.
Much has been written about the nature of the business relationships between these six men. But very little has been written about the nature of the relationship between Pavel Suchanek and the hero of our story, Jiri Kovar.
Jiri Kovar's Jurex Cup website is scattered with pictures of Pavel Suchanek (see
here
). Of course, it is possible that business dealings between Suchanek and Kovar are limited to the payment of the annual club membership fees, and that their encounters on the golf course never stray beyond chats about the best Moravian vintages. It is possible as well that Suchanek, Roman and Krsek have no business dealings with each other either, and that their gathering on a golf course in Dubai in February 2011 was purely for pleasure.
Investment
We have looked at Jiri Kovar the politician and sportsman. Let us now look at Jiri Kovar the businessman. Before examining the owners of the club of which he is the president, I should briefly note that the other statutory representative of CEEI today is Martin Lukschal, the managing director of Golfmonachus and Golf Club Mnich in southern Bohemia. Never have the managers of golf clubs been so well represented on the board of an investor in nuclear waste storage!
The actual golf course is owned by a joint stock company Golf Invest Austerlitz a.s., and its shareholders are unknown. The Austerlitz club buildings are owned by a limited company called Austerlitz Golf, with four listed shareholders. Oldrich Res (35%); Vaclav Tauber (5%); Radovan Vrbka (30%); and the remaining 30% held by a nominee shareholder called Sport & Investment Ltd, incorporated in the UK in 2010 at an address in London W1.
Res and Tauber strike me as bona fide and I shall drop them from our story at this point. Let us look at that London firm. Nominee shareholders are two a penny. What stands out about this particular firm is the reputation of its parent company, Coddan Managers Services Ltd, a firm with hundreds of subsidiaries, all directed by a 31 year old Russian lady called Ekaterina Ostapchuk.
The register states that Sport & Investment has two shareholders, who are not named. Two people want to hide the fact that they own a share in a southern Moravian golf club. It could be Pavel Suchanek or it could be Pope Benedict XVI, with whom Suchanek had an audience soon after he got back from Dubai (see his website –Suchanek's I mean, not Pope Benedict's). There is no way of knowing without asking Ms Ostapchuk, and even she is unlikely to know given that she holds 314 directorships. [UK legislation to be adopted in 2014/15 will put teh likes of Ms Ostapchuk out of business, and force the hidden owner of 30% of the golf club either to reveal his identity or move out of the UK. see
here
]
The fourth shareholder in the golf club buildings is much more promising. Radovan Vrbka is a Brno lawyer specialising in the liquidation of companies. Vrbka's business association with Tomas Pitr is worth mentioning. Vrbka was chairman of the supervisory board of Setuza in 1998-1999, at a time when Setuza was being targeted by Pitr and his associates.
Radovan Vrbka was a board director of IPB's CMFL between October 1998 and November 2005. He was a board director of CMFL's daughter company, Agrocredit, between December 1999 and March 2000. Tomas Pitr was chairman of the board of Agrocredit between March 2000 and 2007. Marian Stetina, Vrbka's business partner in their Brno law practice, was deputy chairman of the board of Setuza in 1998-1999, and a board member of CMFL in the same period. Both Agrocredit and CMFL are in liquidation today.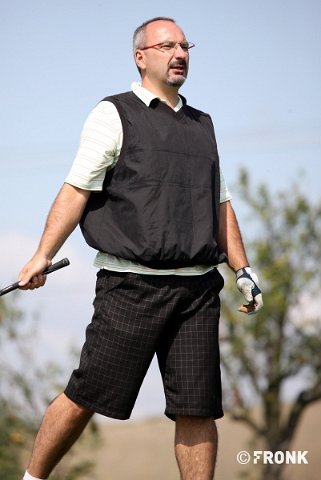 FOTO: FRONK 2007
Radovan Vrbka taking part in the Jurex Cup tournament at GC Austerlitz in 2007. He owns the club house.
So it seems that one of the owners of the golf club of which Kovar is president has enjoyed a long term business association with Tomas Pitr. And readers with a really good memory will recall the name of Jiri Syrovatka, the president of Golf Resort Karlstejn between 2000-2006, openly owned by Pitr's Marila Invest between 2000-2008, and now registered in the name of a nominee shareholder in the Caribbean (click
here
).
What
is
it about golf?
Danke schön!
The story of how CEEI came to be awarded the CEZ contract to build the spent fuel dump at NPP Temelin is worth retelling, not least because it shows what good neighbours Germans can be.
Let us start with CEEI's website. It makes one essential business claim, which is that it enjoys an exclusive relationship with GNS, the German manufacturer of spent nuclear fuel casks, and its subsidiary WTI, which designs the facilities in which these casks are placed.
It is this relationship that made everything else possible, as I shall now explain. CEZ states that the reason CEEI was selected was the fact that it held a license to the relevant know-how: "CEEI qualified for the tender thanks to its cooperation with WTI (a license agreement between CEEI and WTI dated April 13 2007 is one of the attachments to the contract)." ČEZ states that CEEI held "an exclusive license from GNS and WTI for the delivery of interim storage facilities built in countries east of Germany."
Michael Köbl, the spokesman of GNS, stated in 2012 in response to media enquiries, that "during the planning phase, there were negotiations between CEEI and WTI to use our license. CEEI however won the bid with a Czech design and as a result, there was no need for our license, and so the cooperation was terminated. We do not know any details because we were not part of the procedure. We cannot say who owns CEEI."
GNS is not rejecting the claim that it had ever licensed its nuclear fuel storage know-how to CEEI. Having had a chance to see a copy of what appears to be a license agreement between WTI Wissenschaftlich-Technische Ingenieurberatung GmbH and CEE-IT Central Europe Engineering s.r.o. (CEEI was called CEE IT then), I conclude that the German firm did indeed contract to sell its know-how.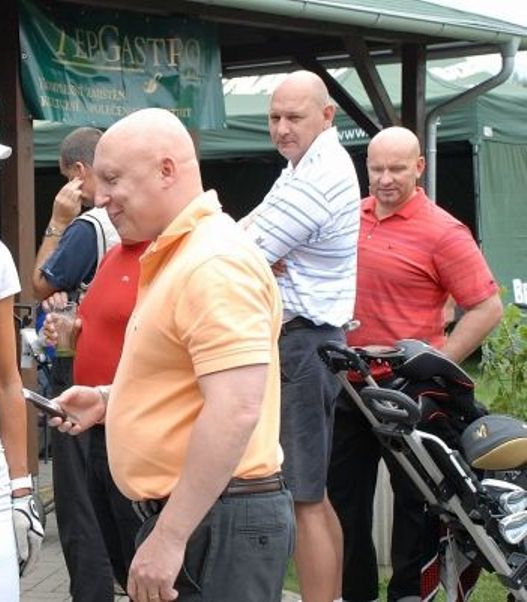 Daniel Benes of CEZ at Golf Resort Barbora, near Teplice, in 2010. The club is owned by Petr Benda, a business associate of Jiri Paroubek.
GNS insists that all cooperation with CEEI has ended but this is not supported by the CEEI website. It is understandable that the German firm would wish to downplay any relationship that might have once existed between itself and CEEI. But if all cooperation has ended, why does the German firm not oblige CEEI to remove the statement 'We are partners of the companies WTI a GNS Group for the territory of the Czech Republic, Slovakia, Russia and Eastern Europe' from the home page of its website?
In short, WTI licensed its know-how to CEEI in May 2007 based upon certain conditions. But because ČEZ switched to a Czech design, CEEI never paid the license fee and the know-how was never transferred. This version of events is not contradicted by GNS's statement above.
The know-how for sale was the project plan for the German spent nuclear fuel storage facility at NPP Isar in Bavaria. We can only speculate as to why GNS/WTI was willing to sell its know-how to CEEI. Maybe CEZ encouraged GNS to do so. Maybe GNS was keen not to prejudice its chances to supply NPP Temelin with its Castor fuel casks. Perhaps GNS never expected to have to transfer the documentation to CEEI. And perhaps CEEI never expected to have to pay the license fee. My opinion is that the agreement was nothing more than a way to lend plausibility to CEZ's otherwise highly implausible choice.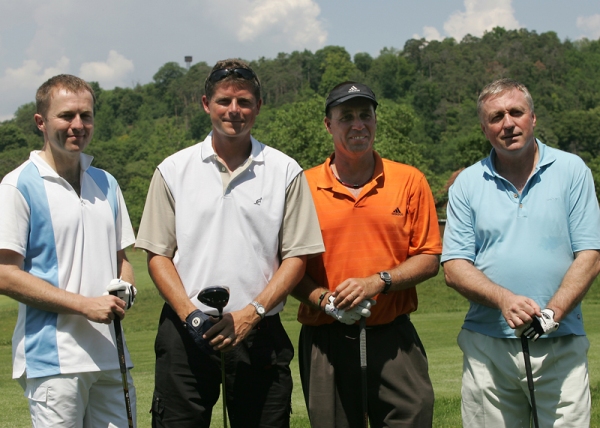 CEZ boss Martin Roman, Ivan Lendl and prime minister Mirek Topolanek at the Unicredit Open Golf tournament at GC Austerlitz on 8th June 2007. In June 2007, CEZ was in the middle of tendering the Temelin contract, finally awarded to CEEI in 2008. Jiri Kovar, the president of GC Austerlitz, would become the statutory representative of CEEI, replacing Martin Peter, shortly after this photo was taken.
It is worth reminding ourselves that the relationship between GNS and Martin Roman goes back to 2003. GNS has licensed through its subsidiary GNB Essen the manufacture of its Castor casks to Skoda JS, a former Appian Group company sold to the Russian industrial group OMZ - Power Machinery in 2004. GNS actually licensed its Castor know-how to Skoda JS in 2001.
When the Appian Group (Martin Roman et al) acquired Skoda Plzen in 2003 from the state, the license agreement would have had to have been re-drawn up with the new owners, and again in 2004, when Skoda JS was sold by Roman to the Russians. So we can assume that GNS knows something about the ownership structure of Appian.
GNS states that it cannot say who owned CEEI ("Über die Eigentumsverhältnisse bei der Firma CEEI können wir ebenfalls keine Angaben machen.") by which we are meant to assume that it does not know who owns CEEI, not that it is unwilling to reveal the owners. In either case, it hardly inspires confidence in the nuclear power industry when Europe's leading manufacturer of spent fuel casks and designer of the buildings in which they are housed make contractual commitments to sell the complete documentation to a brand new Bavarian spent nuclear fuel storage facility to a nominee firm represented by a lawyer in Liechtenstein.
Overpriced
An earlier project prepared by the Czech Nuclear Research Institute, part-owned by CEZ, priced the planned storage facility at one third of CEEI's bid price. The cost of an equivalent facility at NPP Isar in neighbouring Bavaria completed a year earlier was just over EUR 30 million, according to its owner E.ON, which is half the value of the CEEI contract.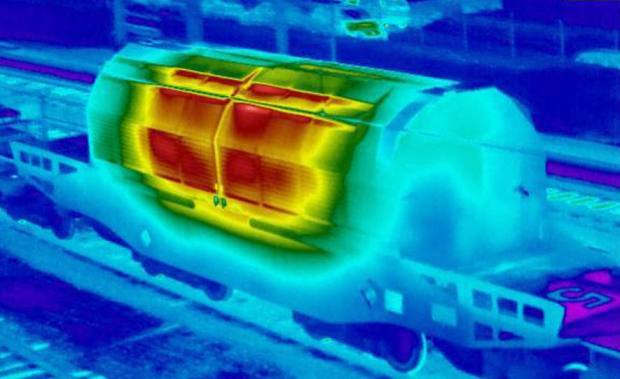 Castor on the move
The cost deltas between the facilities at NPP Isar and NPP Temelin, and between CEEI's winning bid price and CEZ's own price estimate prepared by the Czech Nuclear Research Institute are so great that we must assume either that the Temelin facility is not comparable to the Isar facility or indeed to the facility that CEZ itself had planned. Or that the contracted price was much higher than it needed to be, either through poor project planning or because of corruption.
CEZ may blame the high price on poor planning. But the announcement that the financial crimes police have opened an investigation into the tender, and are looking at the role of Hochtief in particular, suggests otherwise. In fact, there were two tenders for the facility. In the first, only CEEI bid, with other expected bidders, such as Hochtief, which was already doing construction work at Temelin, crying foul. A second tender was held in which more firms bid, including, apparently, Hochtief. But the others overbid even CEEI, and CEEI won for the second time. CEEI then subcontracted the work to the failed bidders, including, apparently, Hochtief.
If this is true, then it might suggest that Hochtief was used to legitimise the high price bid by CEEI –just as GNS appears to have been used to bolster CEEI's credentials by licensing its know-how to the firm. [The Czech police have opened another investigation into CEEI, following an unsuccessful attempt by Kovar to sue Peter. see
here
]
From Liechtenstein to Nicosia via the British Virgin Islands.
I have shown that Jiri Kovar is associated with a lawyer that spent several years working for companies connected to Tomas Pitr. It seems that Martin Roman's Appian Group was also connected to Pitr. In 2011, the Czech media carried the information that Swiss detectives had learnt that, soon after its acquisition from the state of Skoda Plzen in 2003, Appian sent CZK 150 million to a firm registered in the Virgin Islands –which in turn sent on CZK 100 million to Marila Invest, a business controlled by Tomas Pitr.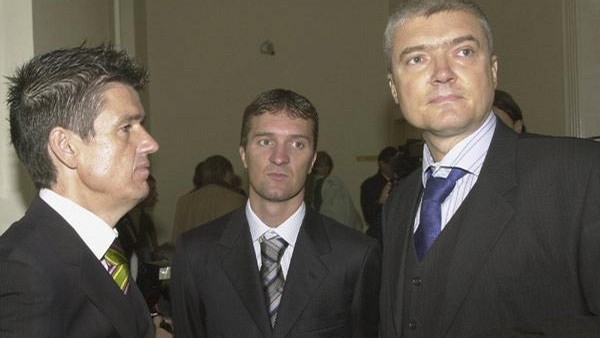 Tomas Pitr and his business partner Jiri Syrovatka, president of Marila Invest's Golf Resort Karlstejn.
And it also seems that Appian was transferring money to Kovar's future employer in Liechtenstein. In 2012, the Czech media cited documents, also from Swiss investigators, which apparently show that in 2006/7, an Appian company transferred CZK 12 million to UBIE, the then Liechtenstein-registered nominee firm that owned CEEI.
CEEI's owners remain hidden to this day behind a raft of nominee shareholders and trustees. CEEI is now owned, not by the Liechtenstein-based nominee UBIE, but by the Nicosia-based nominee Panweco Ltd. And Panweco Ltd is owned by the Nicosia-based nominee Conpran Ltd. And Conpran Ltd is owned by the Nicosia-based nominees Vimatex Ltd and Medwell Holdings. And Vimatex Ltd and Medwell Holdings are owned by Nicosia-based nominees Stateco Nominees and Stateco Trustees.
As Morgan-Jones put it, "It's beautifully organised and black as pitch". And yet there is one straw to which we may clutch. It is the curiously named Rostislav Senjuk, the leader of an ODS proxy party called Soukromnici, which is co-chaired by Bedrich Danda, the current Czech deputy trade & industry minister.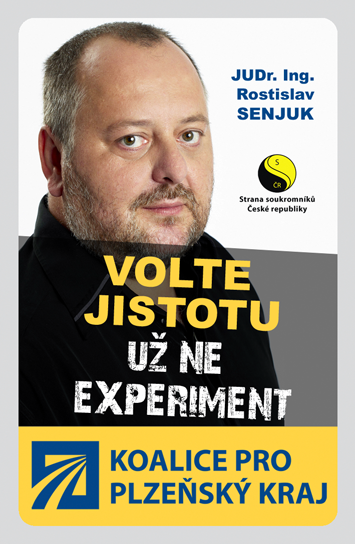 The director of Panweco Ltd and Conpran Ltd does not play golf.
Rostislav Senjuk is listed on the Cypriot public records as a director of Panweco Ltd and Conpran Ltd. The comic Senjuk claims not to know who the owners of CEEI are but insists all the same that whoever they are, they have no connection whatsoever to Martin Roman. In the same breath, he claims knowledge of matters about which he claims to know nothing. The one thing that puzzles me about Senjuk is the fact that he doesn't play golf.
Conclusion
The last ten years have been kind to Jiri Kovar. In March 2004, he turned 40. Vaclav Klaus, his boss of ten years back, had been president of the republic for a year. And on 1st April 2004, CEZ appointed Martin Roman as Chief Executive Officer and Daniel Benes as the firm's Chief Procurement Officer.
A year later, Kovar became president of GC Austerlitz, and in 2007, he played host to the Czech prime minister, Mirek Topolanek, and Martin Roman at a club tournament. And in 2008, the company he led was awarded a EUR 60 million contract by CEZ, the culmination of a chaotic tendering process that had started a year earlier.
At the beginning of this essay, I gave two possible explanations for the secrecy surrounding CEEI's true owners: Either that they are Russian investors wanting to hide their identity for legitimate, 'political' reasons. Or that this was a related party transaction involving CEZ managers and local politicians. In both cases, I suggested that the choice of the Liechtenstein lawyer made good sense, but that the choice of CEEI's local representative, Jiri Kovar, did not.
The public record search above demonstrates why Jiri Kovar was not a good choice. His easily traceable links to ODS politicians, to individuals connected to Tomas Pitr and to individuals closely associated with Martin Roman, together suggest that the beneficial owners of CEEI are not Russian investors.
Instead, these links support the suspicion that CEEI is more likely to be controlled by local politicians and managers of CEZ, the very people, in fact, with whom Jiri Kovar plays golf.
Next March, Kovar will celebrate his 50th birthday. The grateful owners of CEEI, whose identity Kovar has kept so carefully hidden for six years or more, might be expected to celebrate this important occasion with their long-standing and loyal lawyer.
I would urge Ludvik Hradilek, the photo journalist at Aktualne.cz who captured Roman, Suchanek and Janousek returning from Dubai, to gatecrash the party.