Psí hrdinové od WTC (3/3)
25. 09. 2009 | 00:00
Přečteno 6680 krát
V poslední části něco ze "zákulisí" práce záchranářských psů v troskách WTC.
Psí hrdinové od WTC, 3.část
Nebylo to ale jen pátrání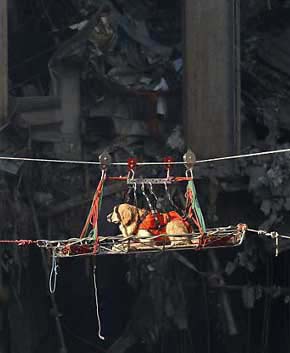 null
Celá práce byla organizovaná v týmech. Nejprve prohlédli oblast statici, aby zjistili, jestli je vůbec možné se tam bezpečně dostat a pohybovat. Pak přišli na řadu specialisté na nebezpečné látky. Ti kontrolovali, jestli tam nejsou třeba hořlaviny nebo nějaké nebezpečné chemikálie. A hned za nimi šli psi. Pokud pes něco signalizoval, záchranáři a hasiči šli hned označené místo podrobně prozkoumat.
Vlastní záchranářské práce ale zdaleka nebyly tím jediným, v čem psi pomohli. Po několika týdnech téměř nepřetržité práce v troskách a při stále marnějším hledání byli někteří záchranáři psychicky doslova na dně. Potřebovali se vypovídat, dostat to napětí ven. Ale nechtěli před svými kolegy. I v tom velice dobře pomohli psi. Na místo přijela dokonce i speciální jednotka psů, kteří prováděli cosi jako psychickou canisterapii pro záchranáře a hasiče. Pro všechny, kteří to potřebovali. Mnoho z nich této psí "nabídky" využilo. Vypovídali se z té hrůzy a ze svých pocitů psovi. Psovi, který si to všechno nechá pro sebe, nebude se ničemu divit a na nic ptát. Nebo mohli jen na chvíli zapomenout, uniknout a přijít na jiné myšlenky při hře se psem. A fungovalo to velice dobře. Laura LaPresti z Missouri to popsala velice jasně:
"Jen pohlazení psa přináší obrovskou úlevu těm, kdo to potřebují. A tam, kde jsem teď, je toho tolik třeba…"
Někteří psi, jako by tušili, co je třeba, sami a po svém aktivně uvolňovali to strašné napětí. Nebo se tím jen sami bránili stresu, který stále více doléhal i na ně? Kdo ví… Konec konců – je to asi jedno, důležité je, že to pomáhalo všem. Lidem i psům…
"Zlatý retriever chodil kolem a hrdě nesl v tlamě přílbu svého parťáka. Vyvolávalo to úsměvy na zachmuřených tvářích, které míjel…"
(Mac Daniel, The Boston Globe).
Psí M.A.S.H.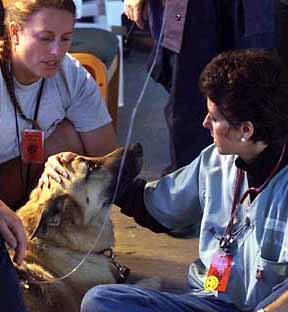 null
Pomoc a spolupráce mezi lidmi a psy nebyla "jednosměrnou ulicí". Byla vzájemná. V blízkosti trosek WTC vznikla polní veterinární ošetřovna, jakýsi "psí MASH". Tam chodili záchranářští psi zpravidla hned po skončení směny. Veterináři je prohlédli a ošetřili. Nejvíce práce asi měli ze začátku s ošetřováním psích tlapek, často rozdrásaných do krve od toho, jak psi chodili hromadami trosek a skleněných střepů nebo když se snažili svůj nález vyhrabat holými packami z betonu. Naštěstí ale brzy dorazily zásilky speciálních psích "bot", takže úrazů tlapek výrazně ubylo. Jiné problémy se ale stávaly častějšími. Jako důsledek dlouhodobé práce v prachu se více objevovaly problémy s očima, ušima a dýchací problémy, takže důkladné propláchnutí očí, vyčištění uší a pečlivé vyšetření stetoskopem se postupně staly celkem pravidelnými procedurami pro psy, kteří právě skončili svou směnu.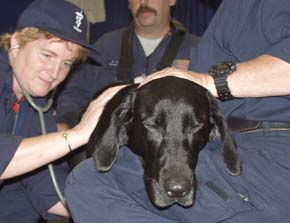 null
Dalším chronickým problémem se stávala únava. Někteří psi byli po mnoha hodinách hledání v troskách tak vyčerpaní a dehydrovaní, že ze směny museli jít rovnou na infuze. Po několika hodinách odpočinku a spánku už ale zase prohledávali trosky se svými lidskými parťáky. Pomáhala i "veterinární rehabilitace". Dobrovolní rehabilitační pracovníci prakticky z celých Spojených států byli k dispozici 24 hodin denně. Nejen lidem, ale i psům. Pokud jde o pořadí, platila tu jasná a jednoduchá zásada – nejdříve psi, potom lidi. A masáže neskutečně unavených psích svalů a páteří byly na denním pořádku…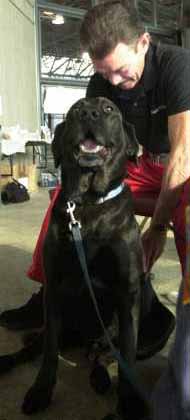 null
Jak pracoval "psí MASH" během jedné poměrně klidné noci popisuje jeden ze svědků:
"Veterinární nemocnice byla jen několik bloků od trosek WTC. Nepřetržitě, ve 12-hodinových směnách tady pracovali veterináři a dobrovolní pomocníci. Velký stan byl plný injekčních stříkaček a infuzních setů, bylo tu místo pro čištění uší a očí i jakési obvaziště, ale také hračky, krmivo a pochoutky pro psy, že by naplnily hodně velký obchod.
Sobotní noc byla klidná. Veterináři se vystřídali ve směně v 11 hodin večer. Prvních několik hodin jejich služby se tu neobjevil žádný pes. Pak přišla Cara, dvouletá beauceronka, která před chvílí zkoumala jakýsi tunel s kamerou, kterou měla upevněnou na sobě. Potřebovala hlavně ošetřit drápy a oči. Veterinář ji ošetřil, zkontroloval a zjistil, že je lehce dehydrovaná. Doporučil po směně hodně tekutin. Za 10 minut Cara už zase odjížděla zpátky do trosek.
…každých několik minut náklaďáky odvážely další pokroucený kus ocelových nosníků. Několik minut po 2.hodině ráno odvážela sanitka s policejní eskortou pozůstatky policisty. Ve 3:25 další a třetí kolem půl sedmé ráno…
Krátce po páté hodině ranní přišel další pacient. Policejní německý ovčák Dwyer. Měl zažívací potíže. Byl prohlédnut, podle veterinářů to všechno bylo způsobeno především dlouhodobým stresem a velkou únavou. Dostal nařízený odpočinek a antibiotika.
V 6 hodin ráno se v troskách střídaly směny záchranářů. Veterinářům tím začaly podstatně rušnější chvíle. Museli zkontrolovat a ošetřit řadu psů, kteří celou noc neúnavně pracovali v sutinách. První přišla na kontrolu černá labradorka Kinsey. Té se nevrtěl jen ocas, vrtěla se snad celá. Veterinář jí změřil teplotu a očistili ji. Za ní přišel německý ovčák Cholo. Do New Yorku přijel až z Texasu. Specialista na hledání živých lidí. Dnes ale nikoho nenašel, proto potřeboval hlavně trochu morálního povzbuzení a hry. Jediné, co ho ale opravdu naštvalo, to byla sprcha. Taková proradnost…
Následoval Thunder, šestiletý zlatý retriever. Ten také naštěstí potřeboval jen drobné ošetření, při této směně hlavně prohledával dutiny v troskách. "Je naštvaný, že jsem ho nenechal dál pracovat…", řekl jeho parťák, Kent Olson. Thundera pořádně vysprchovali a zbavili ho prachu a zbytků nějaké mastné látky na hlavě. Spolu se svým parťákem pak odcházeli do odpočinkové zóny, zatímco Porkchop ve svých oranžových botičkách mířil přesně opačným směrem – do trosek. Tomu směna právě začínala."
S psychickými problémy se ale postupně začali setkávat i sami psi. Záchranářští psi jsou cvičeni tak, že si chtějí s nalezeným člověkem za odměnu pohrát. V troskách WTC ale stále nacházeli jen zbytky lidských těl a nikoho živého, kdo by si s nimi mohl hrát. Postupně ztráceli motivaci a začínali být frustrovaní. Aby se to nestávalo, museli záchranáři vymyslet psům speciální program. Inscenovali jim tedy úspěšné hledání. Hasiči i záchranáři se tak občas sami schovávali v troskách a nechali se hledat záchranářským psem. Odměnou pro psa byla hra, zpravidla přetahování o ručník. Takto motivovaní a "nabití" psi se vraceli znovu a znovu s obrovským elánem do toho skoro marného hledání…
Po pochopitelných počátečních improvizacích se práce záchranářů brzy stala velice dobře organizovanou a promyšlenou a byla výborně podporována dalšími nezbytnými složkami.
Byla to neskutečně dlouhá, těžká, únavná a nebezpečná práce. Záchranářští psi dosud nikdy nebyli nasazeni v takovém počtu, tak dlouho, v takovém množství trosek a v tak těžkých podmínkách pro práci. I tak ale splnili své povinnosti (podle hodnocení přímých účastníků) naprosto perfektně. Ukázali všem, co ve skutečnosti znamená "věrné psí srdce". Jeden z hasičů o tom později řekl:
"Bylo to všechno jako válka. Psi bojovali na naší straně a bojovali naprosto skvěle. Je krásné mít takové přátele…"
Po boku hasičů a záchranářů se i psi stali zcela právem skutečnými "hrdiny z WTC".
Snad jako malý zázrak, ale i jako důkaz promyšleného a dobře podporovaného nasazení záchranářských psů, lze nakonec uvést fakt, že přímo při pátrání v troskách WTC nepřišel o život žádný záchranářský pes…
Co bylo dál?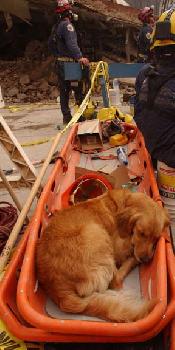 null
Veterinární fakulta Pennsylvánské univerzity v dalším období podrobně sledovala zdravotní stav 97 záchranářských psů, kteří pracovali v troskách WTC. Během 3 let, do srpna 2004, zemřelo 14 z nich, z toho 8 na rakovinu. Nicméně ani množstvím ani příčinou úmrtí se tato čísla příliš neliší od výsledků sledování "kontrolního vzorku" psů, kteří v troskách WTC nepracovali. Nebylo tedy prokázáno, že by expozice psů prachu a chemikáliím v troskách WTC významně zhoršila jejich zdravotní stav nebo vyvolala vyšší úmrtnost. Většina psů byla naopak ve velmi dobrém zdravotním stavu. Jedinou prokazatelnou změnou tedy nakonec bylo jen výrazné zvýšení množství protilátek v tělech psů od WTC. To jasně ukázalo, že psi skutečně byli vystaveni cizorodým látkám, což výrazně aktivovalo jejich imunitní systém. Ale otázka možných dlouhodobých následků je stále otevřena a psi budou sledováni po celý zbytek jejich života.
Nejpravděpodobnějšími kandidáty na úmrtí v souvislosti s prací v troskách WTC z této "pensylvánské" skupiny 97 psů tak zůstávají 3 psi. Servus ("Wuss"), policejní belgický malinois, který spadl hlavou napřed do jámy plné střepů a jemného prachu a velké množství tohoto prachu se mu dostalo do nosu a do plic. Byl sice okamžitě vytažen a ošetřen, ale po čase zemřel na těžký zánět slinivky břišní. Druhým z nich je Anna, 4-letá fena německého ovčáka, která se 3 dny doslova plazila po břiše i do malých děr a otvorů ve snaze najít někoho, kdo přežil. Zemřela v srpnu 2002 na neobvyklou infekci, postihující kosti. Tato fena byla ještě v létě 2001 na podrobném vyšetření, krevní obraz i rentgeny byly tehdy v pořádku. Po zásahu ve WTC se však její stav začal prudce zhoršovat. V tomto případě však podle veterinářů nelze vyloučit ani jistou genetickou dispozici k tomuto druhu onemocnění. Je tedy možné, že zásah v troskách WTC u ní pouze "nastartoval" onemocnění, ke kterému byla již dříve disponována. Třetím psem z této skupiny je Bear, 10-letý čokoládový labrador, který zemřel na žloutenku v září 2003. Před nasazením v troskách WTC měl jaterní testy v pořádku, krátce po něm však krevní rozbory a biopsie ukázaly rozvíjející se onemocnění. Ani v jednom z uvedených 3 případů ale nelze přímou souvislost s prací v troskách WTC jednoznačně prokázat ani vyvrátit.
Podobné jsou i závěry Manhattanského veterinárního centra, které sledovalo dalších 30 psů od WTC. Dr.Philip Fox v roce 2004 uvedl: "Všichni psi měli po několik týdnů plicní a oční problémy, ale téměř po 3 letech se zdají být klinicky v pořádku. Jen několik málo psů zemřelo, ale z příčin zcela běžných, vzhledem k jejich věku a plemeni".
V troskách WTC pracovali němečtí ovčáci, australští ovčáci, belgičtí ovčáci, žlutí labradoři, černí labradoři, čokoládoví labradoři, zlatí retrieveři, portugalští vodní psi, němečtí pointeři, belgičtí malinois, border kolie, belgičtí tervureni, dobrmani, beauceroni, knírači, teriéři a samozřejmě i kříženci. Na ně na všechny se beze zbytku hodí slova Dwighta Eisenhowera:
"Není důležitá velikost psa v boji. Důležitá je velikost bojovníka v psovi"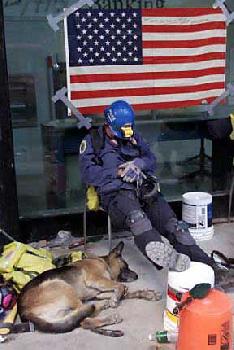 null
Zdroje na internetu:
http://landofpuregold.com
http://www.truthorfiction.com
http://dogsinthenews.com
http://www.krasova.com
http://our.homewithdog.com
http://www.accessibility.com.au
http://www.rommes.org
http://www.novareinna.com
http://www.nydailynews.com