Londýňan, který objevil českou ilustraci
26. 03. 2008 | 10:20
Přečteno 12859 krát
Když jsem poprvé narazil na
artblog
anglického ilustrátora
Paula Bommera
, nevěřil jsem svým očím. Ten člověk kreslí jako Jiří Šalamoun. To je ale pozoruhodná náhoda, řekl jsem si, zařadil si jeho stránky mezi své oblíbené a dál jsem o tom nepřemýšlel. Když na mě pak při jedné z mých dalších návštěv vypadla sada ilustrací s nápisem v neumělé češtině ZIMNI POHÁDKA, smetlo mě to ze židle.
Dovolte tedy, abych vám v dnešním díle mého volného seriálu o výtvarných blozích představil po
Alině Chau
a
Hughu MacLeodovi
pro českého čtenáře nanejvýš pozoruhodného výtvarníka Paula Bommera. Anebo dovolte, aby se Paul představil sám:
"Narodil jsem se ve Wembley, což je čtvrť v severozápadním Londýně známá svým fotbalovým stadionem, něco málo před čtyřiceti lety. Ačkoliv se považuji za Angličana, můj otec pochází ze Lwówa v tehdejším Polsku (dnešní Ľviv – česky Lvov – patřící Ukrajině, pozn. aut.) a moje matka je ze severního Walesu, její otec byl Dán. To je docela dobrá směsice, a ačkoliv umím v obou jazycích jen pár slov, intenzivně cítím ony kulturní vlivy na mé postoje a názory, zejména velšské a polské."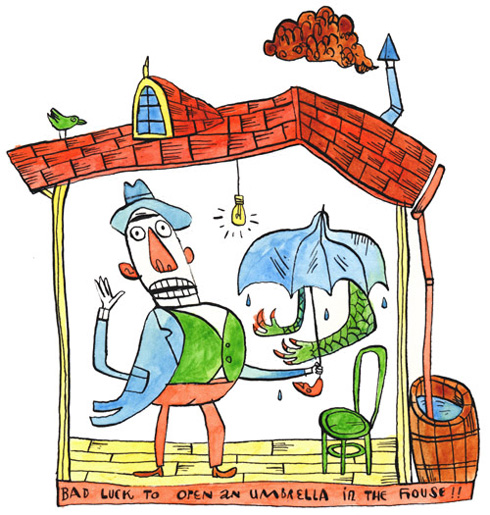 Paul Bommer
A právě díky svému polskému otci objevil absolvent National College of Art and Design v Dublinu českou ilustraci, která měla pro zavedeného autora zásadní význam. Sám k tomu říká:
"Je to snad poprvé, kdy mě moje práce začíná opravdu bavit. Dříve byly moje ilustrace velmi uhlazené a komplikované, a mám-li být upřímný, bylo dost otravné se s nimi piplat. Velmi mě baví nepořádek na mých dnešních obrázcích. Je to tak osvobozující!"
Paul Bommer neskrývá své nadšení z tvorby českých ilustrátorů, spisovatelů a filmařů od Jiřího Šalamouna nebo Adolfa Borna přes Gustava Meyrinka po Jana Švankmajera a Karla Zemana. Touží navštívit Prahu, kde dosud nikdy nebyl, a rád by se naučil i jazyk:
"Když si prohlížím české plakáty, musím přitom sedět nad slovníkem a lopotně si s tím zkoušet poradit."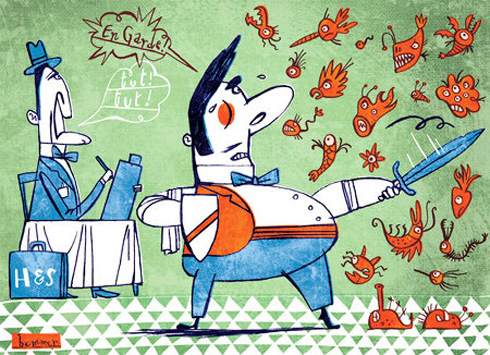 Paul Bommer
Tvorba Jiřího Šalamouna ho zaujala natolik, že si z internetu sesbíral celou knihu jeho grafik, plakátů a ilustrací:
"Nejvíc miluji jeho verzi Hobita, Maxipsa Fíka a Počasí na vraždu."
Nemám ale žádné obavy, že by se z někdejšího stavebního inženýra stal pouhý Šalamounův epigon. V ilustracích Paula Bommera je vidět zřetelný vývoj, stejně jako ovlivnění mnoha jinými styly a směry. A především Paulova osobitá imaginace:
"Neustále skicuji. Většinu odpolední mě můžeš potkat v Soho café, jak si jen tak čmárám, kreslím tváře lidí kolem nebo zaznamenávám nápady, které se prohánějí kolem mé hlavy. Některé z věcí, které mě zajímají, jsou příběhy, dobré jídlo a pití, mytologie a legendy, historie, hudba, literatura, divadlo a příroda."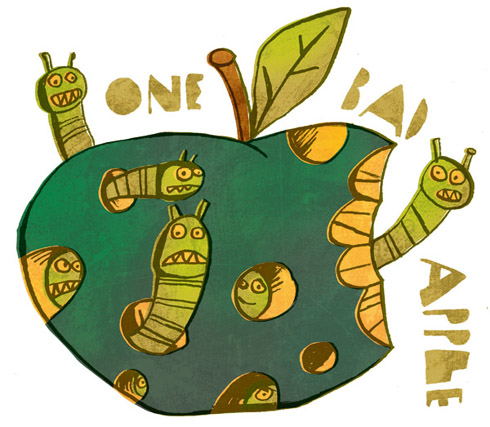 Paul Bommer
Ale zpátky k našemu tématu – výtvarnému blogu. Taky Bommer jej vidí jako skvělou příležitost, jak se mohou kresbičky z jeho skicáků dostat do celého světa. Nebo jako bezpečnostní ventil papiňáku jeho nápadů.
"Pracuji z domova na východním předměstí Londýna, ale stále více cítím volání obyčejného života někde mimo hlavní město. Já i moje partnerka se zabýváme myšlenkou stěhování na vesnici nebo někam do ciziny, možná do Francie."
Anebo třeba nakonec do Česka, Paule?