Stát versus Ludmila Havránková má pokračování
30. 05. 2009 | 13:13
Přečteno 16916 krát
V lednu jsem uveřejnil
článek o principu sporu státu s majitelkou pozemků důležitých pro dostavbu dálnice D11
z Prahy do Hradce Králové. Tehdy vypadalo vše na dobré cestě. Vláda vyslovila souhlas s dohodou, že paní Havránková dostane od Pozemkového fondu 253 hektarů náhradních pozemků, které ovšem představují ve skutečnosti jen část úředního finančního ekvivalentu jejích 10,6 ha stavebních pozemků (1000 Kč/m2)
Pozemkový fond však nebyl dodnes ochoten dohodu naplnit a paní Havránkové pozemky vydat. Když se něco nechce, tak to prostě nejde. Nový ministr dopravy Gustáv Slamečka už argumentuje, že dohoda není na Pozemkovém fondu realizovatelná a v létě by měl projednat "problém" získání pozemků pro dostavbu dálnice D11 k Hradci Králové ve vládě Jana Fischera. Vláda by měla podle Slamečky plánovanou směnu pozemků pro dálnici D11 k Hradci Králové s farmářkou Ludmilou Havránkovou zrušit a Havránkovou případně vyvlastnit.
1
Lidovecký lobbista a královéhradecký krajský radní Miroslav Uchytil se také činí. Podněcuje nátlakové akce. Stojí za organizováním blokády nákladní dopravy v Novém Městě u Chlumce nad Cidlinou. Obyvatelé obce společně s Uchytilem tam na půl hodiny zablokovali jeden z přechodů na tahu ve směru na dálnici D11. Uchytil vyhrožuje tím, že akce se budou opakovat.
2
Ve sporu nejde o nic jiného, než o peníze. Na pozemcích, které má po právu dostat paní Havránková, chtějí zbohatnout jiní. Na novou vládu budou vyvíjeny tlaky, aby revokovala souhlas s dohodou. Během okurkové sezóny je k tomu nejlepší příležitost. Pokud je vláda na straně občanů, měla by vyházet představenstvo Pozemkového fondu a přinutit ho naplnit uzavřenou dohodu. Obyvatelé Nového Města by svůj hněv měly obrátit ke skutečným viníkům své nezáviděníhodné situace. Jedním z nich je bezesporu organizátor jejich nátlakových akcí. Přece nechtějí být jen užitečnými idioty!
Odkazy:
Původní článek
Stát versus Ludmila Havránková
1
Stát couvá od dohody o pozemcích pro D11
2
Obyvatelé Nového Města zablokovali sjezd z dálnice D11
Dovětek: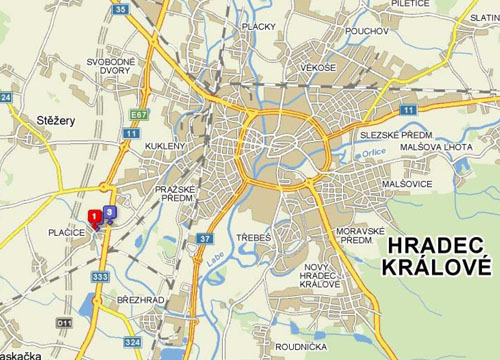 Plačice u Hradce Králové, kde hospodaří rodina paní Havránkové
Plačice u Hradce Králové, kde hospodaří rodina paní Havránkové, jsou velice blízko městu, a proto jsou pozemky paní Havránkové vedeny jako stavební parcely (1000 Kč/m), nikoli proto, že se tu staví dálnice. Pokud by dostala včas vhodné náhradní pozemky v místě bydliště, pak by se směňovalo 1:1. Ty pozemky ovšem už dávno Pozemkový fond zašmelil (získali je prominenti). Nyní by měla paní Havránková dostat daleko vetší výměru pozemků, protože mají nižší úřední ocenění. Ale na ty nové pozemky mají zálusk zase další prominenti, takže se situace neustále opakuje. Paní Havránová chce hospodařit na vhodné půdě a stát jí dodnes nebyl schopen nahradit, co jí chce vzít. Stát pouze tlačí, aby si vzala peníze. Pozemky jsou zřejmě jen pro kamarády.
Nechutný je způsob, jakým je paní Havránková očerňována. Skutečnou vinu nesou neschopní a zkorumpovaní úředníci a ti, kdo je uplácejí.
Další nová informace:
3. 6. 2009
Ministr dopravy chce kvůli Havránkové změnit zákon o vyvlastnění
Nové koště dobře mete. Otázka zní, v čím zájmu jedná. Činností "letní vlády" se nikdo moc nezabývá. Pro lobbisty to může být vítaná příležitost jak bez pozornosti médií zrealizovat svoje záměry. Už v nyní červnu chce Slamečka přesvědčit poslance, aby přilepili novelu zákona (která by zrušila nynější odkladný účinek soudního jednání o finančním vyrovnání s vlastníkem na zahájení stavby) k některé z projednávaných předloh zákonů.
PRINCIP SLAMEČKOVA VYVLASTŇOVACÍHO ZÁKONA:
Majitele pozemků je třeba vyvlastnit, aby na pozemcích, které by bývali mohli dostat od státu jako náhradu, mohli zbohatnout vyvolení.
Kšefty si rozvracet nedáme!
Následující článek vypadá jako součást průvodní kampaně, která má ospravedlnit novelu vyvlastňovacího zákona:
Na kousku D 11 se může kvůli žalobě místního občana zastavit provoz