Fotoblog z Běloruska
25. 12. 2007 | 21:25
Přečteno 77565 krát
Na cestě do Ruska jsem se nedávno na chvíli zastavil v Bělorusku.
Rychlík Vltava z Prahy do Moskvy totiž jezdí přes Polsko a Bělorusko (někdejší trasa přes Čiernou nad Tisou, Čop a Kyjev je už minulostí.)
O Bělorusku se hodně mluví kvůli Lukašenkovi, ale málokdo tam byl, málokdo tuhle zemi zná. Skoro bych řekl, že ze všech evropských zemí se tam jezdí nejméně, možná s výjimkou Moldavska.
Strávil jsem tam cca 55 hodin, takže rozhodně nebudu o sobě tvrdit, že Bělorusko znám.
Ale dám tady k náhlednutí pár fotek a dojmů, třeba to někoho z vás bude zajímat. Člověk nikdy neví.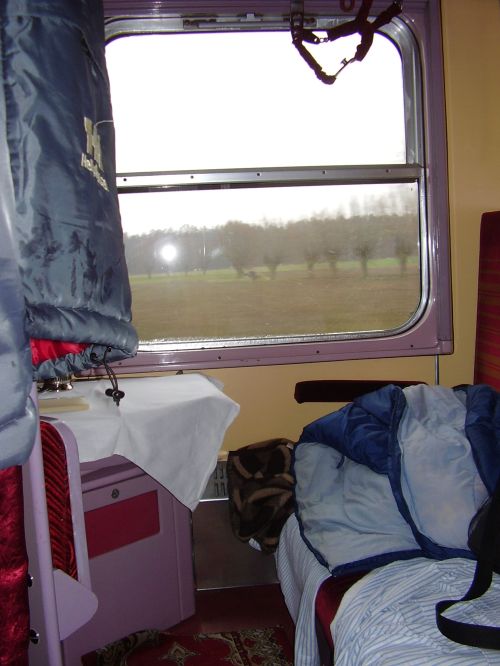 Kupé rychlíku Vltava, za oknem východní Polsko. Do Minski se cestuje vagónem, vypraveným Běloruskými drahami. Cestující do Běloruska a Ruska jsou tak odděleni. Za zmínku stojí fakt, že šálek kávy tady stojí v přepočtu necelých deset korun.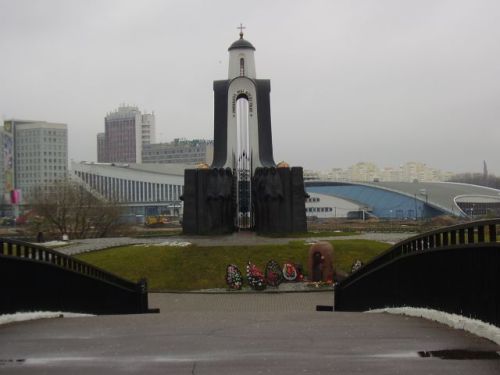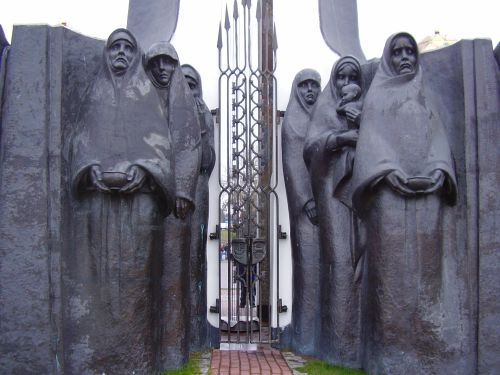 Památník běloruským vojákům, kteří v řadách sovětské armády zahynuli v neslavné válce v Afghánistánu v letech 1979 až 1989. Pomník stojí na malém ostrově na řece Svisloč. Je zároveň kaplí, uvnitř je vedle jména každého padlého malý svícen.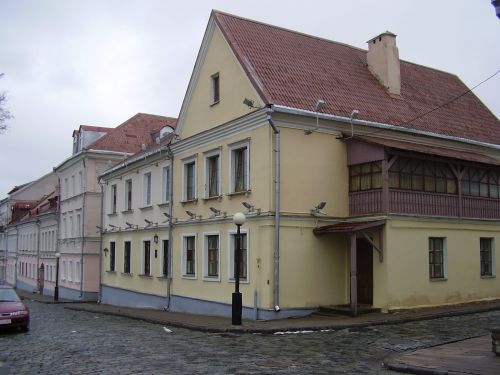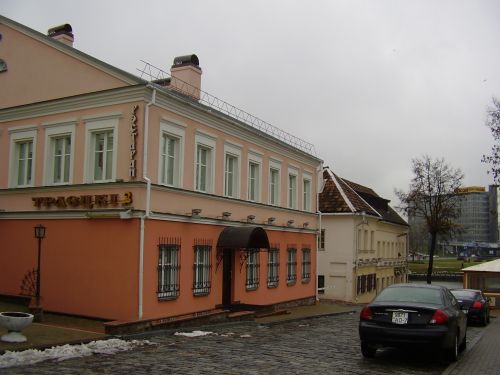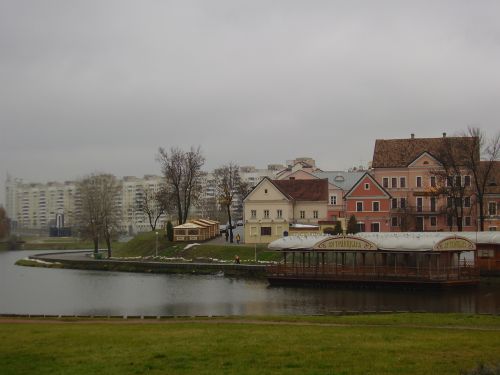 Ze starého Minska toho mnoho nezbylo, tedy spíše vůbec nic. Během druhé světové války bylo město prakticky srovnání se zemí. Část města u řeky, známá jako Trackoe Predmestie, je spíše replikou než zrekonstruovanou čtvrtí.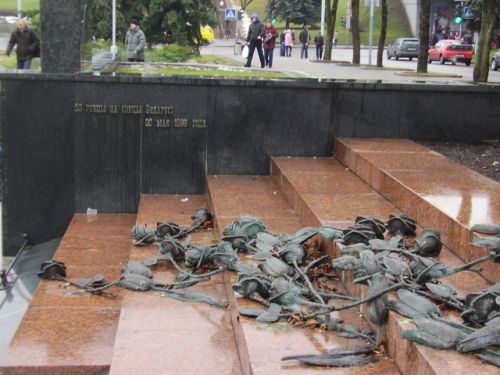 Další docela originální památník u vstupu do stanice metra Njamiha. V květnu 1999 se tady ušlapalo pětatřicet převážně mladých lidí, kteří se do metra utíkali schovat před prudkou průtrží mračen.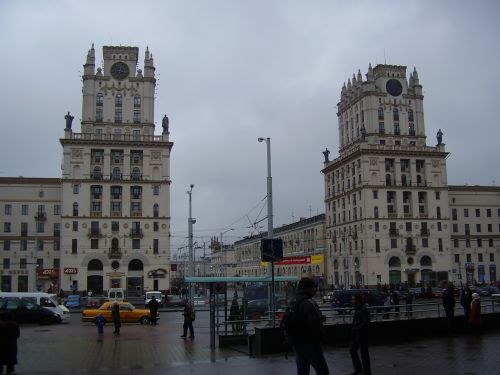 Takzvaná Brána do Minska poblíž hlavního nádraží. Ukázka stalinistického architektonického stylu par excellence.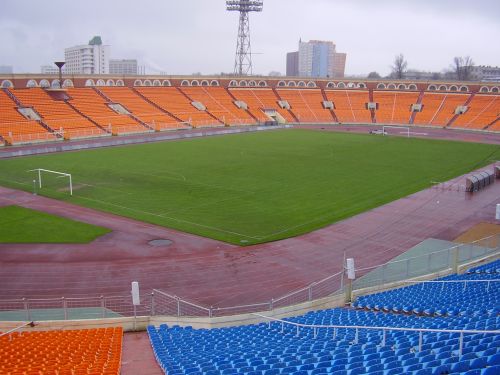 Fotbalový stadión Dynama Minsk je rozhodně v lepším stavu než pražský "Rošičák" na Strahově, kde hrála Slavia na podzim Ligu mistrů. Velké fotbalové stadióny obvykle bývají na okraji, ovšem ten Dynama v Minsku je poněkud kuriózně jen pár kroků od hlavní třídy.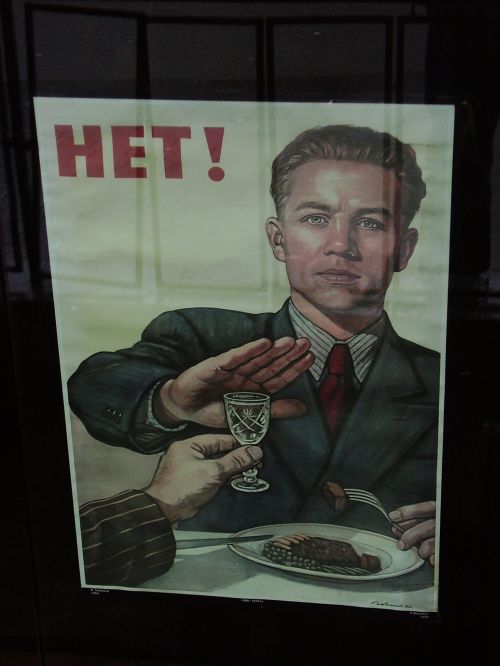 Majitel této minské restaurace se snaží zaujmout originálně.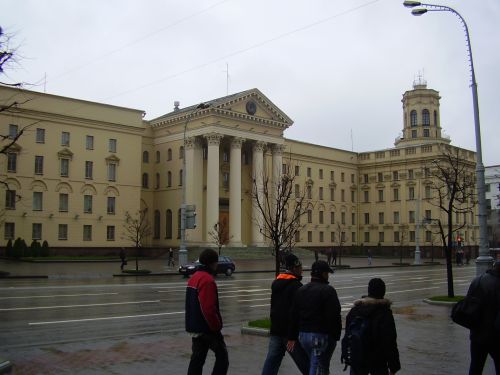 Sídlo běloruské KGB, hlavní opory Lukašenkova režimu. Na rozdíl od Ruska si organizace od sovětských časů v Bělorusku nezměnila jméno.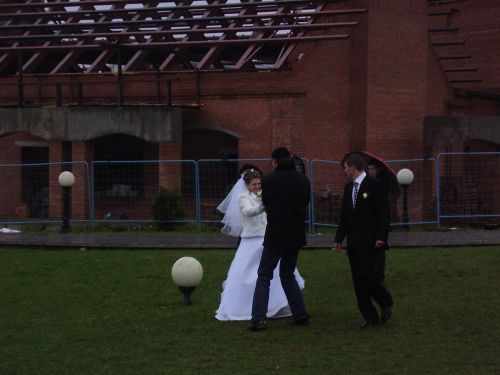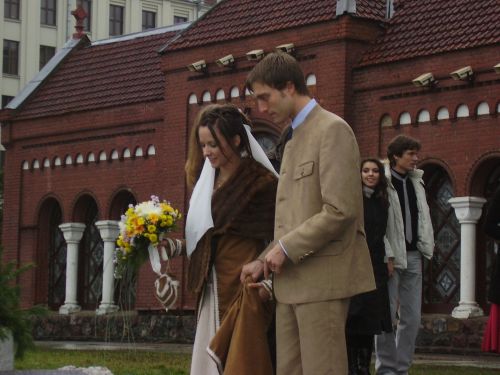 Dvakrát svatba. Jednou v parku, podruhé při odchodu z katolického kostela.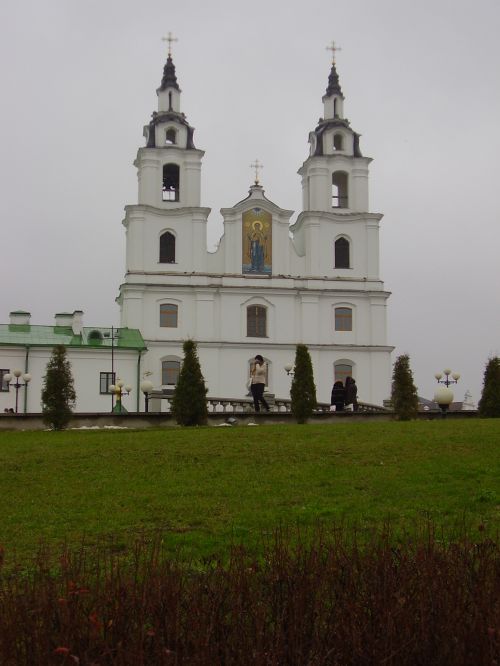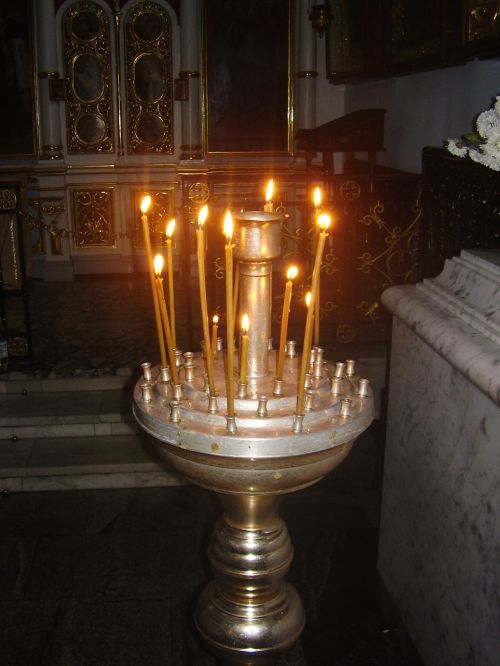 Většina Bělorusů se hlásí k pravoslaví. Hlavní minský chrám Svatého ducha byl ale původně polskou barokní stavbou.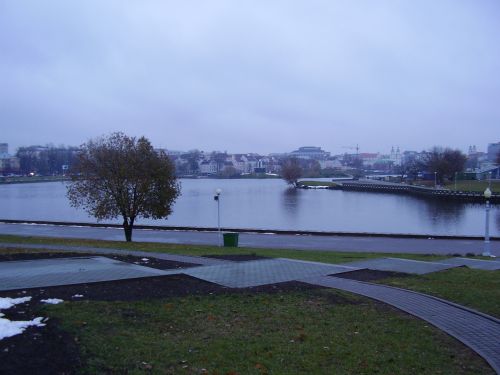 Soumrak nad řekou Svisloč.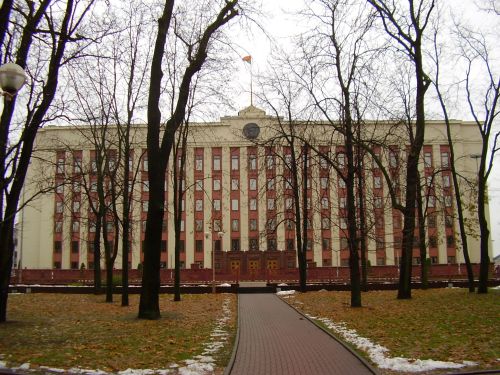 Prezidentský palác, kde úřaduje a sídlí jeho veličenstvo Alexandr Lukašenko. Už od roku 1994,takže je suverénně služebně nejstarší volenou hlavou státu v Evropě.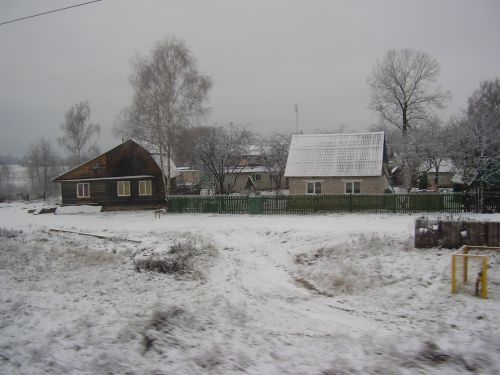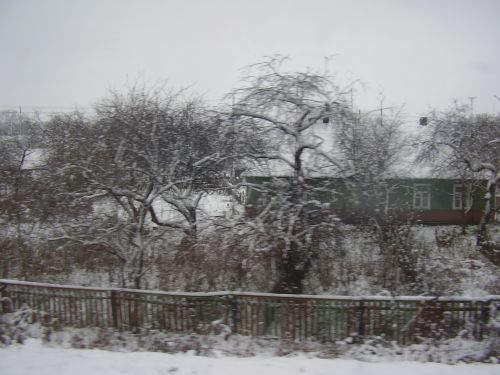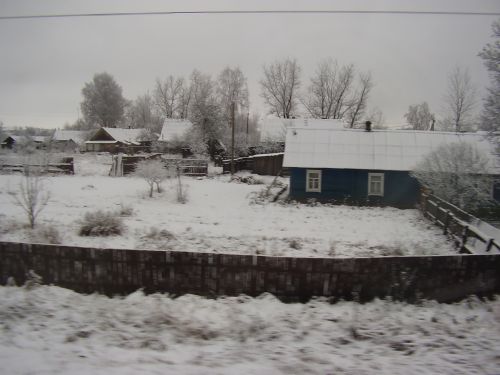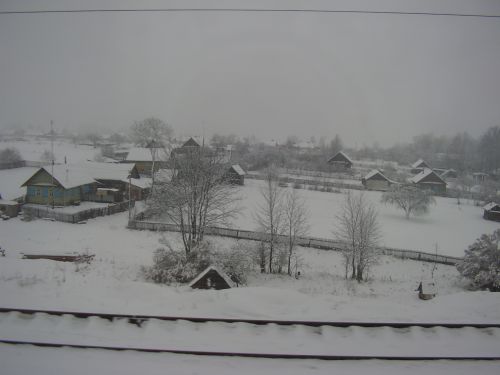 Vesnice ve východním Bělorusku vypadají, jako kdyby vypadly z románů ruských klasiků 19. století. Tudy táhly na Moskvu v uplynulých dvou staletích dvě velké dobyvatelské armády: Napoleonova v roce 1812 a Hitlerova v roce 1941.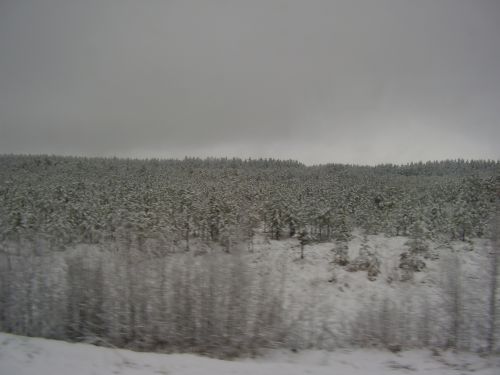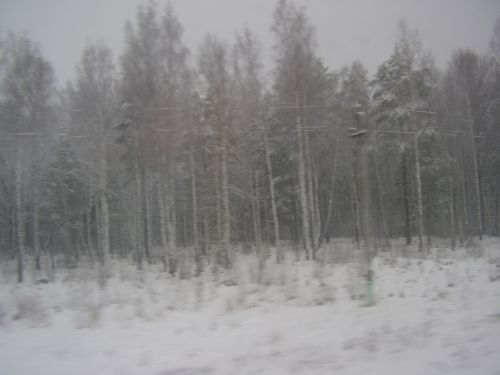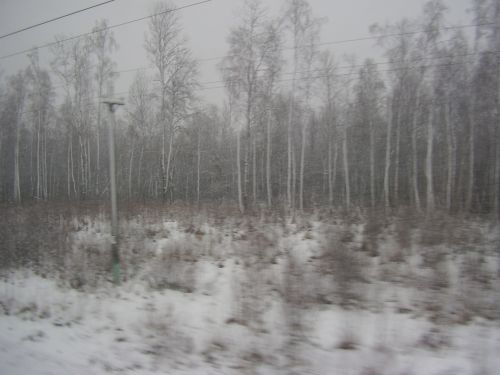 Bělorusko je především rovina. Nekonečné pásmo roviny. Skoro to vypadá, že kdyby si člověk dal pod sebe basu od piva, dohlédl by z jednoho konce Běloruska na druhý. Polský spisovatel Ryszard Kapuscinski kdysi cestoval po Bělorusku a zapsal si: "Připadá mi to, jako kdyby autobus pořád stál na místě. Krajina a rovina jsou pořád stejné." Ačkoliv jsem jel vlakem, musím mu dát za pravdu.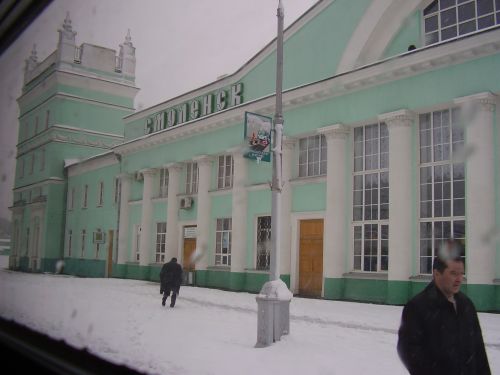 První stanice v Rusku: Smolensk. Vlak také těsně za hranicí projíždí zastávkou Katyň. Popravištěm, kde byly v roce 1940 na Stalinův příkaz zmasakrovány tisíce polských důstojníků. Kdysi to bylo místo v hloubi Sovětského svazu, po jeho rozpadu se z něj stalo ruské pohraniční městečko.