Možnosti atomu? Zůstaňme nohama na zemi
22. 06. 2008 | 22:46
Přečteno 133717 krát
V posledních týdnech se mezi blogy objevilo několik příspěvků, které horují pro jadernou energetiku a vítají její údajnou renesanci. V kontextu klimatických změn a energetické soběstačnosti jsou podobné hlasy slyšet čím dál častěji. Dobrá zpráva je, že se konečně začínají hledat možná řešení obou problémů. Ta špatná a hodně znepokojivá ale zní, že i odborníci jsou jen pozoruhodně málo ochotní konfrontovat své jaderné vize s jasnými čísly a realitou.
Mimořádně ilustrativní je nová studie Mezinárodní energetické agentury (IEA). Ta v publikacích nazvaných "Energy Technology Perspectives" každé dva roky mapuje dostupné a očekávané technologie v sektoru energetiky. Letošní vydání zveřejněné počátkem června představuje historický průlom. Studie se poprvé snaží najít takový mix jednotlivých zdrojů energie, který by dokázal udržet emise skleníkových plynů na úrovni nezbytné k prevenci drastických a nevratných změn klimatu. (To konkrétně znamená potřebu udržet koncentraci ekvivalentu oxidu uhličitého v atmosféře pod hodnotou 450 ppm – částic z milionu, což přeloženo do praxe znamená nutnost snížit do roku 2050 emise související s výrobou a využíváním energie ze současných 28 miliard tun CO2 ročně na polovinu.)
V tomto smyslu Mezinárodní energetická agentura přichází s energetickou koncepcí v pravém slova smyslu, kdy nejen extrapoluje současné trendy, což bylo dosud zvykem, ale snaží se nalézt cestu k výslednému, žádoucímu stavu. Vzhledem k tomu, že jde o jednu z nejuznávanějších institucí v oboru – agenturu zřídily v sedmdesátých letech země OECD – stojí za to se s výsledky její práce seznámit.
Následuje reprodukce grafu ze strany 64. Názorně ukazuje, jaká opatření a technologie mají k tomuto scénáři přispět: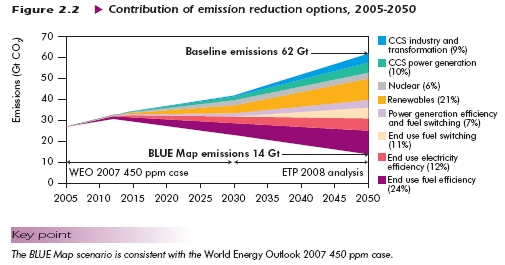 (poznámka: "Blue Map" je název scénáře popisujícího cestu k redukci na polovinu.)
Agentura předpokládá masivní expanzi jaderné energetiky. Do roku 2050 by se v tomto scénáři zvýšila výroba energie v jaderných elektráren téměř čtyřnásobně, z dnešních 2600 terrawawathodin (TWh) na 9857 TWh za rok. To by znamenalo během vystavět během příštích čtyřiceti let 1300 velkých reaktorů; jinými slovy každý rok uvést do provozu 32 nových reaktorů o výkonu 1000 MW.
Jak lze však snadno ukázat jednoduchým výpočtem a jak k tomu dochází i atomu příznivě nakloněná Mezinárodní energetická agentura, příspěvek jaderné energetiky ke snížení emisí oxidu uhlíku z energetiky by i v tomto případě tento činil pouhých 6 % (slovy šest procent).
Lze samozřejmě říci, že v tom případě je tedy nutné postavit reaktorů nikoliv čtyřikrát, ale čtyřicetkrát více. Potíž je v tom, že i ona tisícovka nových bloků je prakticky neuskutečnitelným cílem. Stojí jim v cestě bariéry technické, ekonomické, bezpečnostní i politické.
Vzhledem k mimořádně náročné výrobě velkých komponent i složitosti výstavby je dnes jaderný průmysl globálně schopen světě vystavět zhruba půl tuctu reaktorů ročně. V posledních deseti letech byl souhrnný výkon nově zprovozněných jaderných bloků v průměru pouhých 3 000 MW ročně - to odpovídá třem velkým reaktorům. Tempo by se muselo zvýšit desetinásobně, ale především by se na této úrovni muselo udržet celých následujících čtyřicet let. Další technologickou bariérou jsou omezené zásoby uranu, ze kterého se vyrábí jaderné palivo. Objem známých a spolehlivě odhadovaných zásob ve světových ložiscích činí podle nejnovějšího odhadu 5,5 milionu tun. To při současné roční spotřebě v reaktorech ve výši 70 tisíc tun představuje rezervu na sedmdesát let. Když znásobíme počet reaktorů, vzroste odpovídající měrou i jejich spotřeba – můžeme spekulovat o neobjevených zásobách, které jsou ohodnoceny na dalších deset milionů tun uranu, ale pořád budeme mít palivo jen na několik málo desetiletí (v prognóze Mezinárodní energetické agentury do roku 2050 je 80 % všech reaktorů založených na dnešní lehkovodní technologii, mají tedy srovnatelnou spotřebu uranu).
Vedle technických limitů stojí v cestě jaderné expanzi ekonomika. Průmysl ještě nedávno sliboval, že vyspělé reaktory nové generace budou k dispozici za cenu kolem 2000 dolarů za kilowatt instalovaného výkonu, takže by i velký blok bylo možné pořídit za přijatelné dvě až tři miliardy dolarů. Jenže náklady eskalují – nový francouzský reaktor EPR, jehož stavba začala před třemi lety ve Finsku, už prolomil hranici 5000 dolarů za kilowatt a aktualizované rozpočty chystaných projektů ve Spojených státech šplhají k 8000 dolarům. To je i cena, kterou uvádí květnová analýza agentury Moody's. Budeme-li optimisticky předpokládat, že ceny už dále neporostou, stála by výstavba 1300 velkých tisícimegawattových bloků více než 10 bilionů dolarů!
K bezpečnostním argumentům uveďme jen to, že větší počet reaktorů – které by musely být stavěny i v málo stabilních a ukázněných zemích – by nutně znamenal vyšší riziko těžké jaderné havárie. Čtyřnásobek reaktorů by produkoval 35 000 tun vyhořelého paliva ročně, které nejen nedokážeme spolehlivě zneškodnit, ale které v každé tuně obsahuje deset kilogramů plutonia. Každý rok by tak na zemi přibylo dost materiálu na výrobu čtyřiceti tisíc jaderných náloží.
Zdravá úvaha nás dovádí k závěru, že jaderná energetika je beznadějně mimo hru. I při gigantických investicích a vážném ohrožení světové bezpečnosti by nám pomohla snížit skleníkové emise o pouhých pár procent (přesně jde o 6 % emisí oxidu uhlíku z energetiky, to je asi 4 % veškerých lidmi způsobených skleníkových emisí).
Přesto je zde něco, co politiky i některé vědce nutká opakovat dogma a nepodložený mýtus, že jaderná energetika představuje jediné robustní řešení problémů klimatických změn a spolehlivého zásobování energií. Dokonce i Mezinárodní energetická agentura se ve svých předpokladech týkajících se jaderné energetiky uchyluje k nereálným a místy až průhledně manipulativním tvrzením. Projděme si jeden po druhém, jak se vypořádává se třemi výše popsanými limity.
Pokud jde o možnost průmyslu budovat nové zdroje, agentura v grafu na straně 42 porovnává současnou kapacitu s potřebným tempem – ovšem v případě jaderné energetiky namísto dnešních schopností, které by vypadaly značně nelichotivě, uvádí více než dvacet let staré historické maximum z roku 1985 (což byl opravdu extrém, průměr za celá 80. léta je menší než poloviční). Je pravda, že sloupec vyznačila odlišně zelenou barvou, ale o to víc vystupuje otázka - jaký je jiný než politický důvod dělat takovou výjimku?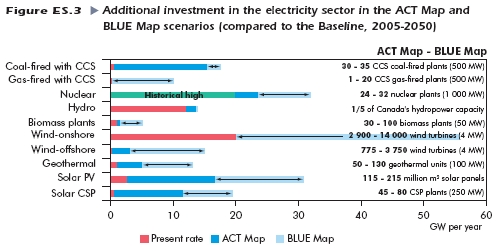 Pokud jde o investiční náklady, agentura navzdory skutečnosti uvádí pro svůj scénář naprosto nereálných 2100 dolarů na instalovaný kilowatt. Takovou cenu už si nedovolí slibovat ani dodavatelé reaktorů. Ceny navíc stále rostou, podle analýzy Wall Street Journal z 29. května 2008 vzrostly náklady na stavbu jaderných elektráren od roku 2000 o 180 % na téměř trojnásobek (kvůli ceně materiálu rostou i ceny jiných typů elektráren, ale dvakrát pomaleji).
Pokud jde o argument bezpečnostních rizik, tady se už agentura úplně dostává do vleku manipulací, kterými se ohání jaderný průmysl. V případě jaderného odpadu už je prý jen potřeba přesvědčit veřejnost o tom, že řešení jsou známá (nejsou), teroristé prý jsou pod kontrolou díky mezinárodním mechanismům a kontrolám (nejsou), a pokud jde o riziko havárií – jaderné elektrárny jsou přece zdaleka nejbezpečnější zdroj. Poslední tvrzení ilustruje graf na straně 295. Byl převzat od Agentury pro jadernou energetiku NEA (sic!) a rovněž si zaslouží reprodukci: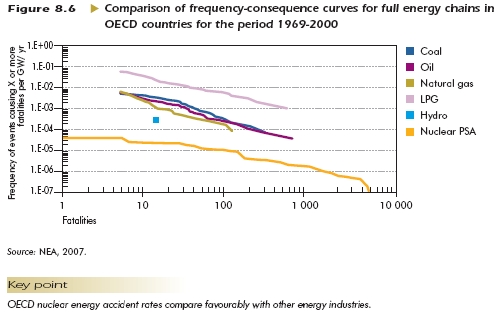 Agentura otevřeně uznává, že graf vyjadřující frekvenci nehod vedoucích ročně k danému počtu úmrtí na instalovaných 1000 MW nezahrnuje černobylskou tragédii. Je to prý proto, že statistika se týká zemí OECD, a Sovětský svaz tam tedy nespadá. Agentura však na vysvětlenou dodává, že opomenutí katastrofální havárie v Černobylu vlastně nevadí, protože při ní bezprostředně zahynulo jen čtyřicet lidí. Desítky tisíc obětí mají prostě smůlu, protože umírají pomalu a po letech, takže se nepočítají!
Nehoráznost takové manipulace už jen dokresluje to, že na rozdíl od statistických dat u ostatních zdrojů dostává jaderná energetika i v tomto grafu zvláštní výjimku a je reprezentována nikoliv skutečně zjištěnými čísly, ale výsledky tzv. PSA výpočtů (pravděpodobnostní bezpečnostní analýza) jednoho vybraného reaktoru ve Švýcarsku. Metoda PSA ale nedokáže přesně vyčíslit absolutní hodnotu pravděpodobnosti, slouží jen k vyhledávání slabých míst v komplexních systémech. Nemluvě o spolehlivosti takových odhadů: v roce 1985 psala Mezinárodní agentura pro atomovou energii, že pravděpodobnost těžké nehody reaktoru černobylského typu je zanedbatelná. Podobně zanedbatelné byla i papírové riziko nehody amerického raketoplánu - před tím, než každý druhý skončil v troskách.
Nakonec ale ta lepší stránka věci. I když v oblasti jaderné energetiky zatím Mezinárodní energetická agentura nenašla odvahu konfrontovat politické zadání s realitou, udělala obrovský pokrok v přístupu k obnovitelným zdrojům energie a potenciálu úspor energie. Jak ukazuje první z převzatých grafů, technologie těchto dvou oblastí se mohou podílet na snížení skleníkové emise rozhodujícími dvěma třetinami – to je desetkrát vyšší potenciál, než je přičítán jaderné energetice i navzdory všem jejím neférovým zvýhodněním.
Právě z tohoto důvodu jsou důraz a péče věnovaná jaderným elektrárnám pouze nebezpečným odváděním financí, kapacit, pozornosti a priorit od opatření, která nám skutečně mohou pomoci.
Upozornění: Postoje a názory vyjádřené v tomto textu jsou osobním hodnocením autora, nikoliv organizace Greenpeace.