Tisíc blesků sem, tisíc blesků tam…
17. 03. 2010 | 13:29
Přečteno 50417 krát
Taky jsem se nestačil divit, když jsem se v úterý na Novinkách dočetl, že při přechodu studené fronty přes naše území v neděli 14.3. večer bylo zaznamenáno celkem 3798 blesků. Toto tvrzení se odvolává na paní Honsovou z Meteopressu. Ale nebyl jsem zdaleka sám, kdo se divil…
Dotyčný článek na Novinkách je
zde
. Prakticky stejné tvrzení se ale objevilo i na dalších webových stránkách (např.
zde
), pochopitelně i na webových stránkách Meteopressu (
zde
) a článek vyšel i tiskem v Právu dne 16.3.2010. No, nebylo nic jednoduššího, než se podívat na záznamy systému detekce blesků (
CELDN
), který provozuje ČHMÚ. Ten ale dával čísla úplně jiná: v celé námi sledované oblasti (tedy ČR + příhraniční oblasti sousedních států) bylo během uvedené noci zaznamenáno celkem
495 bleskových výbojů
, z toho na území ČR
184 výbojů
.
Ptáte-li se teď, jak je možné, že někdo napočítal skoro 4000 blesků v situaci, kdy jich ve skutečnosti nebylo ani 500 (a nad ČR méně než 200), ptáte se dobře. I my jsme se takto ptali. Jeden z našich kolegů si ale dal tu práci a zjistil přesně původ oné zavádějící informace.
Mapky s lokalizací výbojů a jejich počty ze systému CELDN jsou veřejně dostupné na stránkách
radarového oddělení ČHMÚ
. Jeden ze snímků z uvedené noci je i zde: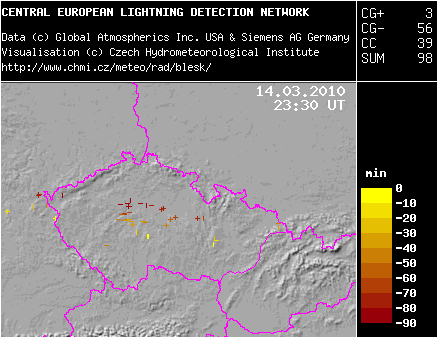 CELDN mapa
Mapky jsou aktualizovány každých 10 minut a jsou v nich znázorněny (a barevně odlišeny) lokalizace bleskových výbojů až 90 minut starých. Celkové počty bleskových výbojů, uvedené v pravém horním rohu snímku, se vztahují k počtům blesků
za celý devadesátiminutový interval
. A tento součet se každých 10 minut aktualizuje. Vždy 90 minut zpátky. Když jen mechanicky sečteme údaje z mapek z termínů 19:50 UTC 14.10.2010 až 0:40 UTC 15.3.2010, dojdeme k číslu - ano, hádáte správně - 3798 blesků. Pokud bychom vzali období od 19:10 až do 6:30 následujícího dne, dostali bychom dokonce číslo 4422 blesků. Tento údaj ale nepopisuje celkový počet jednotlivých blesků za dané období. To proto, že naprostá většina blesků je při tomto způsobu výpočtu počítána 9x (v rámci devíti desetiminutových intervalů).
Tak nějak bych předpokládal, že kdo využívá nějaký zdroj informací, měl by vědět, o čem ty informace jsou a co popisují. To se v tomto případě zjevně nestalo. Někdo prostě jen mechanicky sečetl údaje z mapek systému CELDN, aniž by věděl, co vlastně sčítá. Dostal číslo 3798 – a to zveřejnil. Sčítat takto blesky je ale nejen zcela mimo realitu, je to ale i zbytečné. Na stránkách ČHMÚ totiž existuje i
grafické znázornění časového vývoje počtu blesků
, a to jak pro celou sledovanou oblast, tak i pro území ČR. Z toho je jasně vidět, že bleskových výbojů bylo během oné noci na celém našem území 184. Nevím, jestli paní Honsová o této stránce neví nebo jestli ji "jen" ignorovala.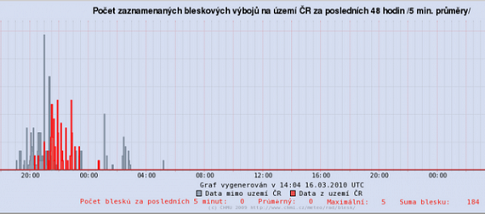 CELDN graf
Bohužel, toto zdaleka není první meteorologický kiks Meteopressu ani paní Honsové, ale k těm dřívějším se vracet nechci. Chtěl bych se zmínit o jiné věci. Na základě našich zjištění sepsali kolegové informaci o této chybě a kromě toho, že ji dali na web ČHMÚ a na Portál ČHMÚ, ji zaslali i do redakce Novinek a Práva. Myslíte si, že se někde objevila oprava onoho naprosto scestného údaje o skoro 4000 blesků? Samozřejmě že ne. Novinky mlčí, Právo mlčí. Dělají mrtvé brouky. Jistě, přiznat si (a hlavně přiznat veřejnosti), že naletěli nespolehlivému zdroji informací, to není příjemné. A údaj 4000 blesků vypadá jistě extrémněji než nějakých 184 blesků. Co na tom, že je to nesmysl, když to přitáhne čtenáře? Tak se raději nereaguje vůbec. Zamete se to pod koberec a ono to časem vyšumí. Že veřejnost dostala naprosto mylnou informaci, to nakonec asi není nijak důležité.
Nevšiml jsem si ale ani reakce Meteopressu nebo paní Honsové osobně. Velice mě zajímá, jestli se alespoň oni k této věci vyjádří, nebo jestli také budou spoléhat na to, že to nakonec nějak "vyšumí"…