Psí hrdinové od WTC (1/3)
11. 09. 2009 | 00:00
Přečteno 37345 krát
Dnes je tomu 8 let od teroristických útoků na WTC a Pentagon. Ve vzpomínkách na tyto události se ale někdy trochu zapomíná na to, že i tenkrát stáli po boku lidí nejlepší přátelé člověka – psi.
Tento článek vznikl na základě materiálů, sesbíraných z internetu, už před několika lety. Myslím si ale, že je stále aktuální a hodně vypovídá o vztahu mezi lidmi a psy v extrémních situacích. Proto bych ho chtěl zveřejnit i zde. Vzhledem k jeho délce jsem ho rozdělil na tři části a budu je sem dávat po týdnu. Druhá část vyjde tedy 18.9. a poslední 25.9. Zároveň se omlouvám, že se asi nezúčastním diskuse, ale čeká mě v té době dovolená mimo ČR (se psy, jak jinak…).
Tak tedy -
Psí hrdinové od WTC, 1. část
Dny po 11.září 2001 v New Yorku a Washingtonu ukázaly světu nové hrdiny, zejména hasiče a záchranáře. Po jejich boku ale stáli ti, na které bychom také neměli zapomínat a kteří si zaslouží stejné uznání jako lidští hrdinové. V troskách WTC a Pentagonu odváděli společně se svými lidskými parťáky skvělou práci a všechny své nemalé schopnosti dali do služby lidem. Byli to psi. Pochopitelně hlavně záchranářští, ale spolu s nimi i služební a dokonce i dva vodicí…
Celkem asi 350 záchranářských psů pracovalo řadu měsíců po 11.září 2001 v troskách WTC. Přijeli prakticky z celých Spojených států a několik týmů i z Kanady. Společně se záchranáři a hasiči našli ale jen 5 živých lidí (všechny hned v prvních dnech po katastrofě) a kolem 20 tisíc částí lidských těl.
Tady jsou příběhy několika psů, kteří v byli době útoku v budovách WTC nebo v následujících měsících pracovali na záchranných operacích, jak se mi je podařilo shromáždit na základě materiálů z internetu.
SIRIUS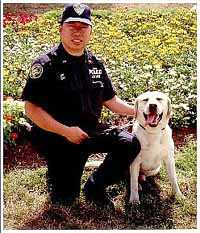 null
"Byli jsme si velice blízcí. Kamkoli jsem šel, on šel se mnou. Cokoli jsem po něm chtěl, to udělal. Když jsme už pracovali dlouhé hodiny a prohledali stovky aut a náklaďáků, vždycky se na mě podíval, jako by se znovu ptal – 'A co chceš, abych udělal teď?'" (David Lim, Port Authority Police Dept., o Siriovi)
Sirius byl podle všech informací jediným psem, který zahynul přímo při útoku na WTC. Ráno 11. září byl tento 4-letý smetanový labrador, cvičený k hledání výbušnin, se svým pánem Davidem Limem ve službě v suterénu jedné z budov WTC. Okamžitě po prvním útoku nechal David Siria na místě v kotci, řekl mu, ať zůstane, že se za chvíli vrátí a šel se podívat nahoru, co se děje. Vyběhl po schodech do budovy a tam pak až do konce pomáhal při evakuaci lidí z WTC. V okamžiku, kdy se budova zřítila, byl někde kolem 4. nebo 5. patra. Zřícení věže David jako zázrakem přežil a záchranáři ho po několika hodinách našli. Chtěl hned jít hledat Siria, ale celá oblast byla mezitím uzavřena a zpět do trosek už ho nepustili. Přesto se David znovu a znovu ptal záchranářů, jestli už se dostali na místo, kde byl Siriův kotec. Bylo ale celkem jasné, že Sirius přežít nemohl...
K Siriovu kotci se záchranáři dostali až 22.ledna 2002. David tam hned také spěchal. Sirius podle všeho zahynul okamžitě při zřícení budovy. Dostalo se mu stejných poct jako policistům a hasičům, kteří zahynuli při zřícení budov WTC. Všechny stroje na chvíli utichly, všichni okolo tiše stáli a salutovali, když David Lim se záchranáři vynášeli ven z trosek Siriovo tělo, přikryté vlajkou. David k tomu později řekl: "Museli jsme ho najít. Slíbil jsem mu, že se pro něj vrátím. Musel jsem to udělat".
Na posledním rozloučení se Siriem, které se konalo 24.dubna 2002, dostal David od záchranářů Siriovu misku na vodu, kterou našli vedle kotce.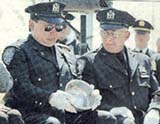 null
Nechali na ní vyrýt Siriův epitaf: "Položil jsem život, abys Ty mohl zachránit jiné". David o té misce řekl: "Pro většinu lidí by to byla jen obyčejná miska na vodu. Pro mě je to ale něco, co budu chránit a ctít do konce svého života"
SALTY A ROSELLE
"Není nic, co by mohlo nahradit přesnost psího nosu. A už vůbec nic nemůže nahradit psí srdce…" (Bob Sessions, FEMA – Federal Emergency Management Agency)
Podle dostupných materiálů byli v době útoku v budovách WTC dva vodicí psi, doprovázející své nevidomé. Roselle s Michaelem Hingsonem a Salty s Omarem Riverou. Oba byli v severní věži, která byla terčem hned prvního útoku. A oba tito labradoři dokázali naprosto neskutečnou věc: vyvedli své nevidomé ven dříve než se budovy zřítily. Bez nadsázky jim tím zachránili život. Podmínky, ve kterých museli pracovat, byly tak extrémní, že na ně každopádně nemohli být plně připraveni. Přesto ani v tom stresu, chaosu, hluku, kouři, zápachu a obrovském horku z požárů nezpanikařili a dál skvěle odváděli svou práci. Ale skutečně jen práci? Nebylo v tom něco víc?
K následujícímu příběhu jen jednu krátkou, ale nutnou poznámku. Celý příběh se totiž v podkladech vyskytuje ve dvou verzích. Podle jedné z nich se pes jmenoval "Salty", podle druhé "Dorado". Problém zřejmě vznikl při překladu původního španělského spojení "un labrador retriever dorado", což znamená "světlý (zlatý) labrador" a nikoli "labrador jménem Dorado". Omar Rivera totiž pochází z Kolumbie. Správné jméno psa je tedy, s největší pravděpodobností, "Salty". Proto jsem si dovolil v tomto smyslu i upravit překlad, který jsem jinak převzal z http://www.krasova.com. Ale teď už Saltyho příběh: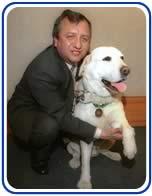 null
Newyorčan Omar Eduardo Rivera měl tu smůlu, že se nacházel v 71. poschodí severní věže World Trade Centra, když unesené letadlo narazilo do budovy 25 pater nad ním. Omar Rivera, počítačový technik, který je slepý, byl ve své kanceláři a jeho pes (žlutý labrador) Salty ležel v tu chvíli pod stolem. "Postavil jsem se a slyšel jsem, jak kolem létají a padají kousky skla. Cítil jsem, jak mi kouř plní plíce a horko bylo prostě nesnesitelné. Protože nevidím, věděl jsem, že nedokážu jako ostatní lidé běžet dolů po schodech a přes všechny ty překážky. Počítal jsem s tím, že zemřu a rozhodl jsem se vypustit Saltyho a dát mu tím šanci na únik. Nebylo by fér, kdybychom v tom pekle měli umřít oba. Myslel jsem, že jsem navždy ztracen – ten hluk a horko byly strašlivé – ale musel jsem dát Saltymu šanci utéci. Tak jsem odepnul vodítko, poplácal jsem ho po hlavě, postrčil jsem ho a nařídil mu, aby šel. Doufal jsem, že beze mě dokáže rychle seběhnout schody a dostat se do bezpečí. Myslel jsem, že bude tak vyděšený, že uteče. Všude byl zmatek. Kolem hlavy se mi tříštilo sklo a lidé se hnali ze schodů." V té chvíli byl Salty smeten prchajícími lidmi a pan Rivera zůstal po několik minut sám uprostřed pekla.
Ale pak neočekávaně ucítil důvěrně známé chlupaté pošťouchnutí u kolen. Omar Rivera vysvětluje: "Vrátil se ke mně po několika minutách a dovedl mě dolů ze 70. patra a ven na ulici, bylo to úžasné. V tu chvíli jsem s jistotou věděl, že mě miluje stejně, jako já miluji jeho. Byl připraven zemřít pro naději, že by mohl zachránit můj život."
Když se dostávali ke konci schodiště, přispěla jim pomocí jedna spolupracovnice. "Držel jsem se pevně její ruky. Sestupovala po mé pravé straně a pes byl vlevo," říká pan Rivera. Úzké schodiště bylo nesmírně přeplněné a zmatek situaci ještě zhoršoval. "Lidé se kolem mě cpali a strkali. Všude byla cítit hrůza." Avšak podle jeho tvrzení postupně zavládl pořádek: "…většina lidí se chovala celkem rozvážně a chápala, co se děje, takže jsme šli dolů celkem uspořádaně, ale pomalu. Šlo to pomalu, protože se tolik lidí snažilo dostat ven, ale Salty mě postrkoval dolů krok za krokem."
Saltymu, Omaru Riverovi a jeho spolupracovnici trvalo více než hodinu, než sestoupili těch 70 pater. Zanedlouho poté, co se dostali na zem a do bezpečí, se věž zřítila. Pan Rivera říká: "Za svůj život jsem vděčen Saltymu – mému společníkovi a nejlepšímu příteli."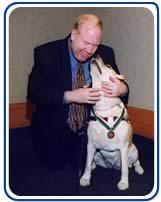 null
Příběh Michaela Hingsona a Roselle je podobný, jen s tím rozdílem, že tito dva byli až v 78.patře. Roselle, 3,5-letá žlutá labradorka ležela pod stolem, když do věže narazilo první letadlo. "Spíše jsem to cítil než slyšel. Budova se rozkymácela. Báli jsme se, že s zřítí." Michael byl v tu chvíli na jednání se svým kolegou Davidem Frankem a několika zaměstnanci jiné firmy. Spolu s Davidem nejprve řekl ostatním lidem, aby sešli dolů po schodech, pak zavolal manželce, řekl jí stručně, že se něco stalo a že se jí ozve, jak to jen půjde. Zavěsil, s Davidem si sbalili své věci a vyrazili také. Michael věděl, že nemůže použít výtah. Měl zkušenosti se zemětřesením, dříve totiž žil v Palmdale v Kalifornii, přímo na zlomu San Andreas…
"Vydali jsme se dolů po schodech. Roselle odváděla skvělou práci. Byla naprosto soustředěná. Všude byl hrozný zápach leteckého benzínu a někteří lidé měli brzy problémy s dýcháním. Ze začátku nebylo na schodišti moc lidí, jak jsme ale postupovali dolů, přibývalo jich". Teplota vzduchu byla přes 30 stupňů Celsia a Roselle dýchala stále obtížněji. Najednou mu přišlo divné, že potkává lidi, kteří jdou nahoru. Pak se dověděl, že to jsou hasiči. Ti jim řekli, ať dál sestupují dolů, že všechno bude OK. A sami se vydali do toho pekla nahoře. "Moc jsem se o ně bál", říká Michael…
Jak postupovali dolů, Michael začal mít v jednu chvíli pocit, že se z toho nedostanou. Schodiště tady už bylo plné lidí, bylo hrozné horko, vzduch necirkuloval a kromě toho ten strašný zápach leteckého benzínu. Navíc Roselle už dýchala velice těžce, byla vyčerpaná a Michael viděl, že se nutně potřebuje napít. I přesto dál pracovala a společně s Davidem vedla Michaela dolů. Konečně byli v přízemí. "Byly tam popraskané trubky a na podlaze kaluže vody. I přesto, že to bylo velmi nebezpečné, na chvíli jsme se zastavili a Roselle se alespoň trochu napila". Celkem jim trvalo asi hodinu, než se dostali ven. Teprve tam se Michael od Davida dověděl, že v plamenech jsou obě budovy.
Když se dostali asi 2 bloky od WTC, začala se hroutit jižní budova. "Znělo to jako kovový a betonový vodopád. Utíkali jsme do metra". Roselle pořád pracovala, stále byla naprosto soustředěná a reagovala na povely a nakonec jim všem jeden policista pomohl najít vchod do metra. Když po chvíli vyšli ven a pokračovali pryč směrem od WTC, zřítila se i severní budova. Zasáhl je oblak prachu, popela, střepů a trosek. Jedna žena poblíž měla něco v očích a neviděla, takže Michael s Roselle pomohli i jí…
Hned jak to jen šlo, začal potom Michael telefonovat a e-mailovat známým, že jsou s Roselle v pořádku, že se z toho pekla dostali… "Nezpanikařila a nikdy ani na chvilku nezaváhala", řekl prostě o své Roselle Michael Hingson…
BEAR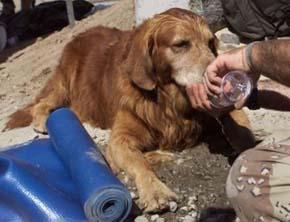 null
"It's been a hard day's night, and I've been working like a dog…" (John Lennon / Paul McCartney)
Téměř dvanáctiletý zlatý retriever Bear byl jedním z prvních záchranářských psů (podle některých materiálů dokonce vůbec prvním záchranářským psem), který se se svým parťákem, kapitánem Scottem Shieldsem z Marine Safety Services v New York City, dostal k budovám WTC, a to už 38 minut po druhém útoku. Po zřícení obou věží začali oba okamžitě pracovat v troskách, a to na jejich západní straně. Prvních 6 až 7 hodin pracovali v této oblasti úplně sami.
Hledali nepřetržitě po celý zbytek dne a celou noc, až do následujícího rána. I během dalších dnů a týdnů záchranných operací pokračovali v prohledávání trosek, v naprosto příšerných podmínkách, v kouři, hluku, prachu, skleněných střepech, 18 hodin denně. Bear pracoval stejně tvrdě a vytrvale jako všichni lidé a nikdy neodmítl jít do té strašné a nebezpečné změti pokroucené oceli a rozdrceného betonu. Když se druhý den po katastrofě ptali jednoho z přítomných hasičů, na kolik si cení pomoci Beara, ten odpověděl stručně, ale zcela jasně: "Nade všechno…". Bear pravděpodobně udělal nejvíce nálezů ze všech záchranářů, lidských i psích. Jeho instinkt kde hledat, podpořený dlouholetými zkušenostmi, byl téměř neomylný. Našel v troskách i některé živé lidi z těch pěti, které se po zřícení věží ještě podařilo zachránit…
Není divu, že Bearovi se dostalo cti jít v čele průvodu záchranářů po 5.avenue na podzim 2001.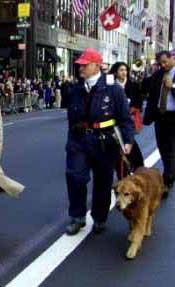 null
A možná trochu paradoxem je, že 17.listopadu 2001 byli se svým pánem odměněni Medailí za hrdinství – od International Cat Society, na kočičí show ve Westchester County.
Dlouhá, únavná a nebezpečná práce v troskách WTC se však na Bearově zdraví nepříznivě podepsala. Hned první noc si tam totiž ošklivě poranil záda o ostrý kus oceli. Byl sice okamžitě ošetřen, ale hned se zase vrátil do práce. Později se ale v tomto místě objevila rakovina. Bear zemřel 23.září 2002, šest týdnů před svými třináctými narozeninami. Na pohřbu se mu dostalo stejných poct jako všem Newyorským hasičům, kteří zahynuli 11.září 2001. Bearovo tělo pak bylo letecky dopraveno do krematoria zvířat v Hartsdale a jeho popel si odvezl kapitán Shields domů…
27.října 2002 se konalo na lodi USS Intrepid, kotvící u Manhattanu, velké vzpomínkové shromáždění, věnované Bearově památce. Několik set lidí a několik desítek psů se tam naposledy rozloučilo se skutečným "psím hrdinou z WTC"…
Později byla Bearovým jménem založena nadace na podporu záchranářských psů v USA. Tato nadace má do budoucnosti 4 základní cíle:
- financovat veterinární péči o záchranářské psy, kteří se zúčastnili operací na troskách WTC (a výhledově o všechny záchranářské psy v USA)
- pomoci výcviku záchranářských psů v celých Spojených státech
- zlepšit vybavení záchranářských týmů v USA
- zajistit rychlý a bezplatný letecký transport záchranářských týmů
(pokračování 18.9.)