Ach ouvej, Lidové noviny…, co to tisknete?
15. 03. 2011 | 07:04
Přečteno 40806 krát
Už jsem o Nákladovém nádraží Žižkov ani psát nechtěla, ale nemohu jinak. Článek, který vyšel v sobotní příloze Lidových novin, v prestižní rubrice Esej, nelze přejít mlčením.
Ekonom Miroslav Zajíček v článku
Žižkovské nádraží a drahé byty
s podtitulem
Čím více chráníme památky a regulujeme zástavbu, tím hůře se mladí lidé dostávají k bydlení
dal do souvislosti prohlášení Žižkovského nákladového nádraží za památku a územního plánování obecně s cenovou nedostupností bydlení. Na několika příkladech ze světa (Hongkong, Austrálie, New York, Kalifornie) pak tuto kauzalitu: tedy růst cen bydlení v důsledku zavedení územních a dalších regulativů dokládá.
Obecně nechci s uvedenými fakty polemizovat, regulativy asi ceny nemovitostí a pozemků opravdu zvyšují, ale vyvodit z toho militantní závěry zpochybňující smysl územního plánování a na kauze žižkovského nákladového nádraží i smysl ochrany památek je bohužel zcela ukázkový příklad
fachidiocie
. Jen co autor vystrčí nos mimo svůj obor, ztrácí soudnost a rozvahu vzdělaného člověka, uchyluje se k zkratkovitým závěrům a nejspíš to ještě ke všemu vůbec netuší.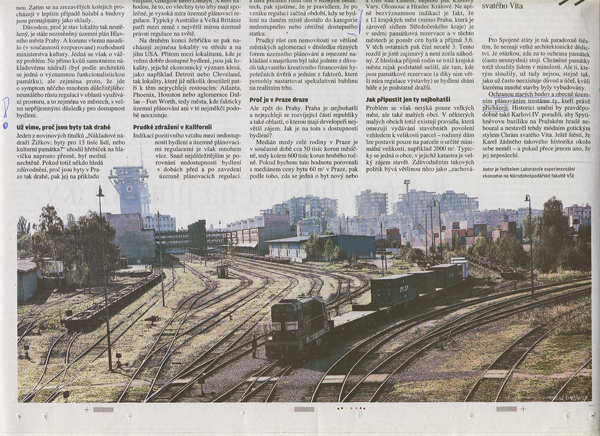 Na ilustračním obrázku k článku je pohled na rozlehlý pozemek nádraží a z kontextu vyplývá šokující sdělení, že prohlášení za památku se týká snad celého pozemku bývalého nádražního areálu a že stát bude nesmyslně chránit nevyužité rezavé koleje zarůstající lebedou na úkor vzniku levného bydlení pro mladé rodiny.
Ale to je naprostý omyl a ještě k tomu demagogie!
Omyl:
Za památku mají být prohlášeny jen budovy nádraží tvořící sotva pětinu celého rozlehlého území (na snímku jsou sotva patrné v pozadí vlevo), zástavbě ostatních bývalých drážních pozemků žádná fatální překážka již nebrání (kromě absence chytré urbanistické koncepce a kapitálu na straně developera). Nakonec i konverze nádražních budov k obytným účelům (např. studentské nebo startovní byty) je jednou ze zvažovaných variant jejich využití. Věděl to autor článku?
Demagogie:
A jak přišel vůbec M. Zajíček na to, že by snad právě zde po demolici nádražních budov mělo vzniknout ono kýžené dostupné bydlení? Potvrdil mu snad developer Luděk Sekyra, který má ambici na ploše po bývalém žižkovském nádraží postavit celou čtvrť ve vysoké architektonické kvalitě, že půjde cestou sociálního bydlení?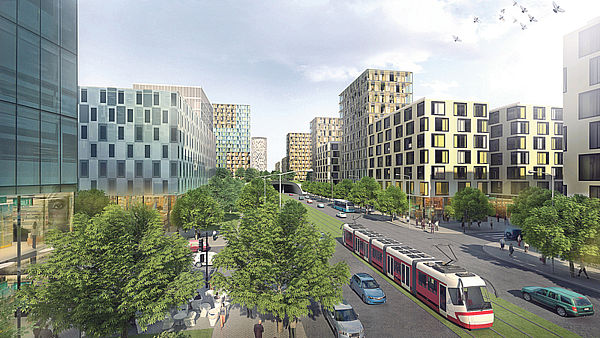 Vizualizace developera Sekyra Group nové zástavby na místě žižkovského nádraží publikovaná v médiích.
Vrcholem výletů autora zmíněného článku na neznámou půdu kulturní historie i sociologie je několik volných úvah a výroků soustředěných v závěrečném odstavci. A ty stojí za citaci.
Autor konstatuje, že nižší migrace za prací je v Evropě oproti USA způsobena vyššími cenami nemovitostí vůči příjmům, za což mohou regulace.
"Pro Spojené státy je tak paradoxně štěstím, že nemají velké architektonické dědictví. Je otázkou, zda za to ochrana památek (často nesmyslná) stojí."
Dále se dozvídáme, že chráněné památky sloužily lidem v minulosti, ale ti už tady nejsou, takže často i zanikl důvod, kvůli kterému byly postaveny.
"Ochranou starých budov a obecně územním plánováním trestáme ty, kteří právě přicházejí."
A v úplném závěru chtěl autor článku korunovat své myšlenky nezpochybnitelně pádným argumentem, před kterým už půjde do kolen každý. Povedlo se! Je to ale koruna šaškovská…, ta nejprimitivnější úvaha, jakou často slýcháme od obhájců demolic a velkých developerských zásahů.
"Historici umění by pravděpodobně také Karlovi IV. poradili, aby Spytihněvovu baziliku na Pražském hradě neboural a nestavěl tehdy módním gotickým stylem Chrám sv. Víta . Ještě štěstí, že Karel žádného takového historika okolo sebe neměl – a pokud přece jenom ano, že jej neposlechl."
Tato věta je asi totéž, jako kdybychom suverénně prohlásili: Karel IV. by jako pokrokový panovník při cestě na Karlštejn dával přednost železnici před jízdou koňmo. Zní to logicky, ale je to prostě blbost. Doba Karla IV. byla ještě celá dlouhá staletí vzdálena okamžiku, kdy společnost dospěla k takové schopnosti sebereflexe vlastních kulturních dějin, že z ní přirozeně vyvodila potřebu chránit památky, podobně jako byla její tehdejší technická vyspělost vzdálena celá století od vynálezu parního kotle.
Ruce pryč od Nákladového nádraží Žižkov, pane Miroslave Zajíčku! A když, tak prosím smysluplnou polemiku!