Jak žijí Češi v rumunském Banátu
04. 01. 2009 | 22:30
Přečteno 16777 krát
Na území dnešního Rumunska se čeští kolonisté objevili ve 20. letech 19. století, kdy připlula na vorech po Dunaji do Banátu různorodá skupina obyvatel Čech za účelem ochrany hranice jižní výspy Rakousko-Uherska. Získali sice příslib řady výhod, často však "skutek utek". Noví osadníci založili v letech 1827–28 několik osad, ale život v drsných podmínkách banátské vysočiny nebyl jednoduchý. Ve dvacátém století zaznamenáváme tři velké reemigrační vlny rumunských Čechů – první je možné datovat po roce 1918 a vzniku Československa, druhá po druhé světové válce a třetí v 90. letech 20. století, která pokračuje dodnes.
Své postřehy z letního putování po rumunském Banánu tentokrát sdělují
Iva Nádvorníková, Jakub Hajný, Leona Židková a Jana Procházková
, účastníci projektu
Krajané: Po stopách Čechů ve východní Evropě
.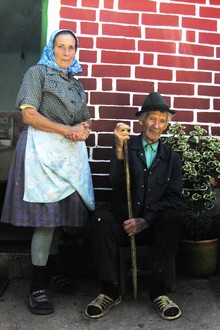 Amálie Jakubovski (68let) vdova po potomkovi jedné z šestnácti rodin, které založili vesnici roku 1827 se sousedem Františkem Mičánem (87let). Jeho nepřítomný výraz nevypovídá o nezájmu, ale o jeho částečné slepotě. Paní Jakubovski svého souseda často potěší polévkou nebo šiškami (koblihy).
Mateřský jazyk zde samozřejmě procházel jiným vývojem než u nás, a tak zní dnešní banátská archaická čeština velmi roztomile – obsahuje celou řadu germanismů i staročeských slov. Dochovaly se zde i lidové tradice a zvyky (písně, kroje), svátky (Vánoce, masopust, Velikonoce, pouť, posvícení), svatby se konají ve staročeském stylu. Architektura vesnic vypadá při pohledu zvenčí typicky staročesky, interiéry jsou už vybaveny spíš v rumunském vesnickém stylu. Rovněž oblékání a strava jsou více ovlivněny rumunským okolím.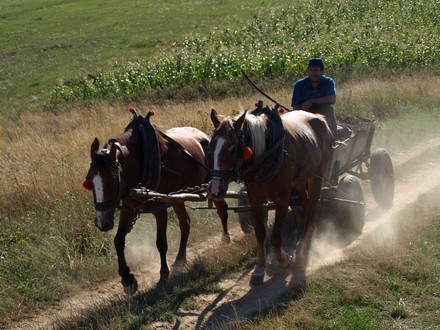 Povozy s koňmi jsou dosud často využívány. Ve velké míře jsou však místním lidem k dispozici traktory a jiné moderní prostředky. K dopravě do měst, ať už za nákupy nebo za prací, se využívají téměř výhradně tranzity pro jejich kapacitní přednosti.
Z původních deseti kolonií se dodnes zachovala šestice vesnic, které emigračním (resp. reemigračním) vlnám odolaly nejvíce: Svatá Helena, nejstarší a "nejčeštější" vesnice Banátu, zároveň nejlépe dostupná, pokud jde o vzdálenost od důležitých rumunských komunikací (pouze pět kilometrů po nyní dokončované nové silnici). Spolu s největším Gerníkem patří mezi vesničky, kde najdete nejvíce turistů a díky tomu působí (oproti ostatním vesnicím) poměrně živým dojmem. V Gerníku mají i fungující firmu, vlastní pekárnu nebo velkou hospodu, kde noční život díky velkému množství turistů nejvíce připomene dnešní české vesnice u nás doma.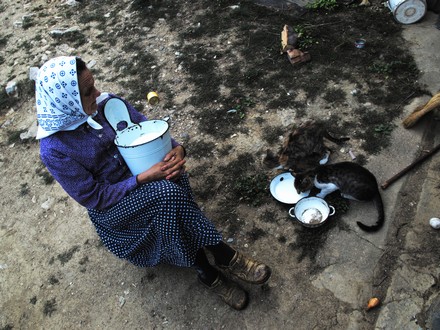 Čerstvé mléko je každodenní záležitostí. Mimo klasickou konzumaci se z něj – nejen v Gerníku – vyrábí např. vynikající domácí tvaroh nebo sýr.
Naopak Rovensko je sice krásná vesnička posazená v kopcích, ale z mladých lidí tady nezůstal téměř nikdo. Na Rovensku je vidět, jak to asi bude vypadat, až se podobně vylidní i zbylé české vesnice a zůstanou pouze staříci, za kterými občas přijedou vnoučata. Je zde už málo lidí (místní si myslí, že jich je tam asi 70). Jedna z krajanských vesnic, Cozla, již zcela zanikla. V této vesnici se nacházely doly, kam se sjížděli lidé z okolních vesnic. Po zavření dolů (před dvěma lety) v oblasti už nikdo nebydlí a v okolních vesnicích je kvůli zavření dolů neuvěřitelný nedostatek práce.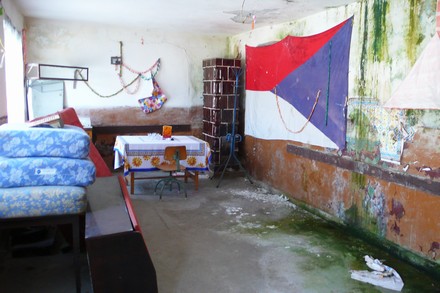 Interiér Demokratického spolku Čechů a Slováků v Rumunsku. Jediná budova v obci Liubcova, kde by bylo možné pořádat setkání krajanů. Bohužel je v dezolátním stavu a její používání je vyloučeno. V současné době je ve vlastnictví obyvatele této obce, který se zatím marně pokouší získat prostředky pro její rozsáhlou rekonstrukci, která je k další činnosti spolku nutná. Situaci komplikuje fakt, že v současné době již není obec Liubcova obývána pouze Čechy, ale většinu obyvatel zde tvoří Rumuni a Srbové. Finanční podpora pro Čechy v Rumunsku proto směřuje do okolních vesnic.
Mladí, pokud mohou, odjíždějí za prací do Temešváru nebo Oršavy, případně se stěhují do ČR. Ve vesnicích zůstávají hlavně staří, kteří žijí z důchodu nebo z políček, v Berzasce ještě z rybolovu. V Liubcové velice stojí o obnovu spolku (Demokratický svaz Čechů a Slováků), ale původní budova je v naprosto dezolátním stavu. Často zde slyší sliby o penězích, ve skutečnosti se ovšem stále nic neděje.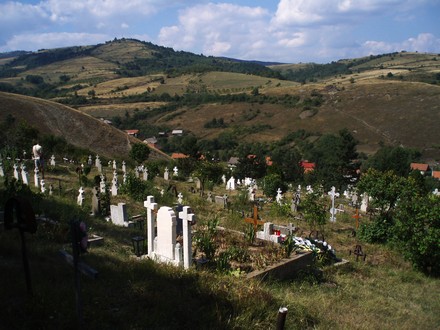 Vesnice Eibentál se nachází v úzkém údolí a dosahuje délky 3 kilometrů. Ebintálský hřbitov leží tedy z nedostatku místa vysoko nad vesnicí. Čeští kolonisté přišli do těchto míst již v roce 1827. Od té doby počet krajanů stoupal. V roce 1934 žilo ve vesnici 600 Čechů, dnes již méně než 300.
Eibentál je krásná vesnice s velkým množstvím výhledů do kraje a velice milými obyvateli, kteří žijí v naprosté symbióze se svými rumunskými sousedy, kterých je v této vesnici nejvíc. V nejbližším městě Oršavě žije 20 000 obyvatel, z nichž je asi 200 Čechů. Zde se už ve školách čeština neučí a mladá generace umí česky ještě méně. Přesto se ale stále někteří snaží o to, aby děti nezapomněly na české tradice, zvyky a jazyk. Češi se zde scházejí v katolickém kostele, který sdílejí spolu s Maďary, Němci a katolickými Rumuny. I zde se krajané potýkají s nedostatkem zaměstnání, protože továrny ve městě jsou skoro všechny zavřené. V Bígru mají sbírku tisíců pastelek, které jim už pět let posílá společnost Člověk v tísni. Před pěti lety se totiž objevilo na internetu, že mají akutní nedostatek pastelek. Místní teď nevědí, co s nimi.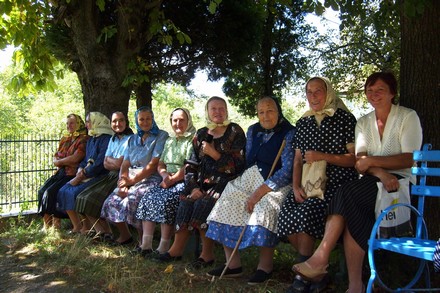 Obyvatelé Šumice jsou silnými katolíky a nedělní mše je nepostradatelnou součástí týdne, přestože velebný pán dochází jen jednou za čtrnáct dní. Je to jediná chvilka, při které se vesničané nehoní za svým hospodářstvím a prací na poli.
Lidé jsou ve všech vesnicích přátelští a většinou rozhovor začnou sami, hlavně ti starší. Někteří krajané ovšem špatně nesou, že se na ně jezdí čeští turisté dívat jako na exponát v ZOO. Ve více navštěvovaných vesnicích se už ani k fotografování nestaví tak nadšeně. Případnou návštěvu Banátu neodkládejte – velký zájem turistů v některých vesnicích život místních docela mění.
Autory textu jsou Iva Nádvorníková a Petr Kokaisl. Fotografie a jejich komentáře jsou pak dílem Jakuba Hajného, Leony Židkové a Jany Procházkové. Více o projektu Krajané: Po stopách Čechů ve východní Evropě, v rámci něhož vznikl tento text, čtěte
zde
.